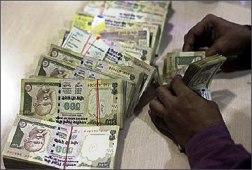 Snapping a two-session upmove, the rupee on Tuesday weakened by two paise to 54.58 against the dollar because of renewed demand for the US currency from importers and continued capital outflows amid weakness in local equities.

However, a sluggish dollar overseas capped rupee's fall to some extent, forex dealers said.

The local currency commenced the day's trade on a firm note at 54.49 against the dollar from Monday's close of 54.56 at the Interbank Foreign Exchange market.

Later, it hovered in a volatile range of 54.41-54.65 before settling down at 54.56, a fall of two paise over its previous close.

Meanwhile, foreign institutional investors continued exiting Indian stocks and sold shares worth over USD 121.8 million (Rs 664.90 crore) today, according to provisional BSE data.

The BSE benchmark Sensex fell over 211 points to end at seven-month low of 18,226.48.

"The
rupee today fell in line with weak equities. After the Cyprus issue, investors are cautious about investing in emerging market economies. . . Thus, we have been witnessing a flight of FII money from the markets, which hurting the rupee," said K Hariharan, Treasurer at First Rand Bank.
The dollar index, a gauge of six major global rivals, was down by 0.2 per cent.
Hariharan said that very high forward premiums are making it tough for debt markets to attract money, so the rupee is likely to move in the 54.25-55.50 range in near term.
But the export data to be announced later this week will decide the future course of rupee's movement.
Pramit Brahmbhatt, CEO, Alpari Financial Services (India) said: "Rupee remained volatile today... Looking at the global scenario, rupee is likely to depreciate further this week."