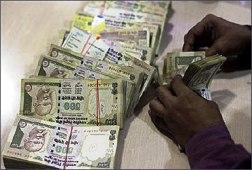 In a listless trade, the rupee on Friday recovered by six paise to close at 54.81 against the dollar on the Interbank Foreign Exchange market following fresh dollar selling by exporters amid capital outflows.

However, weak domestic equities and better dollar overseas limited the rupee rise, a forex dealer said.

The local currency resumed higher at 54.80 a dollar from previous close of 54.87 and moved in a narrow breadth of 54.76 and 54.8950 before settling at 54.81, a rise of six paise or 0.11 per cent. In last two days, the currency tumbled by 61 paise or 1.12 per cent.

Extending its losing run to third day, the benchmark S&P BSE Sensex today declined by 59.47 points or 0.32 per cent, while FIIs sold shares worth Rs 326.21
crore on Thursday as per provisional data with stock exchanges.
The dollar index was up by 0.04 per cent against a basket of six major global rivals.
"The rupee started on a positive note as Euro recovered yesterday and the Dollar index fell below 83.00 levels owing to downbeat jobs data from the US.
"However, the rupee traded in a narrow range in the later hours taking cues from the negative stock markets, driven by the fear of early elections which put pressure on the rupee," said Abhishek Goenka, Founder and CEO, India Forex Advisors.
"Globally, dollar index was seen holding above 82.50 levels, indicating strong resilience despite the poor data released on Thursday.
"Although, minor correction is expected, the major trend remains bearish for the rupee," he added.