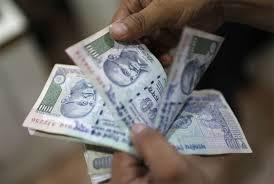 Continuing its losing streak for the second straight session, the rupee today closed at a fresh three-and-a-half month low of 63.56 against the US dollar after plunging to 63.64 in intra-day trade on sustained demand for the American currency from importers amid weaker equities.
After touching an intra-day low of 63.64, lowest in the current calender year, the Indian rupee recovered some lost ground, still showing a fall of 24 paise to close at 63.56 against the US dollar.
Continued selling by foreign investors on worries regarding the controversial tax issue too kept the rupee under pressure.
In the New York market, the dollar edged lower against the euro yesterday after data showed first-time claims for US unemployment benefits rose more than expected last week.
At the Interbank Foreign Exchange (Forex) market, the domestic unit commenced slightly better at 63.30 a dollar from previous close of 63.32 and moved in a range of 63.21 and 63.64.
Previously, it had concluded at 63.57 on January 6, 2015.
On weekly basis, it has plunged by 120 paise or 1.92 pct. The benchmark S&P BSE Sensex today stumbled by 297.08 points or 1.07 pct and 1,004.16 points or 3.53 pct on weekly basis; while Foreign Portfolio Investors (FPIs) sold shares worth USD 13.41 million yesterday, as per Sebi data.
Pramit Brahmbhatt, Veracity Group CEO, said, "The rupee traded low today and depreciated over quarter per cent taking cues from weak local equities which closed down by over one per cent.
The rupee lost 24 paise to trade more than three- month low and posted its third weekly loss in a row." "The trading range for the Spot USD/INR pair is expected to be within 63.00 to 64.00," he added.