The 30-share Sensex ended down 261 points at 27,177 and the 50-share Nifty ended down 91 points at 8,214.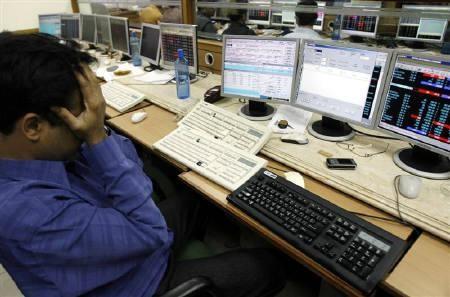 Markets ended lower for the third straight day as concerns over restrospective tax on foreign funds and weak corporate earnings continue to weigh on market sentiment.
The 30-share Sensex ended down 261 points at 27,177 and the 50-share Nifty slipped below its 200-day simple moving average to end 91 points lower at 8,214.
On January 7, 2015, the Nifty had ended at 8,102.10.
"The uncertainty over retrospective tax on investments by foreign funds continues to weigh on the markets in addition to weak corporate earnings.
However, any correction represents a good buying opportunity.
In the broader markets one has to look for quality and value. Buying at higher levels poses a huge risk.
We expect the economy to revive and one should look at the cyclical sectors," said Vaibhav Agrawal, Vice-President & Head of Research, Angel Broking.
Further, investors are cautious ahead of the expiry of April derivatives contracts due on Thursday and the two-day meet of Federal Open Market Committee (FOMC) in which the Federal Reserve is likely to signal its stance on key policy rates.
Currency The rupee was trading lower at 63.63 against the US dollar compared to the previous close of 63.56 on the back of dollar demand from importers and weakness in equities.
Stocks & Sectors
All sectoral indices on the BSE ended in the red. BSE Realty emerged as the top loser down nearly 4% followed by Healthcare, Oil and Gas, Consumer Durables and FMCG indices among others.
Financials ended mixed with HDFC and HDFC Bank down 0.4-2.9% each contributing the most to the Sensex decline along with SBI which lost over 3% and Axis Bank dropped 0.8%.
ICICI Bank ended down 1% on concerns of higher non-performing assets. Gross NPAs were up 3.78% versus 3.4% quarter-on-quarter while Net NPAs were up 1.61% versus 1.27% quarter-on-quarter. Standalone net profit for the quarter increased 10% to Rs 2,922 compared to the same quarter last fiscal.
Infosys continues to remain under pressure on the back of disappointing earnings while guidance was also lower than industry forecasts. The stock ended down 0.7%.
However, TCS ended flat while Wipro recovered after recent losses to end 1.6% higher.
Pharma shares witnessed profit taking with Dr Reddy's, Cipla and Sun Pharma ending down 2-3% each. Vedanta gained 1.9%.
According to media reports, Anil Aggarwal-led Vedanta is eyeing a minority stake in debt-laden Electrosteel Steels.
Tata Steel and Hindalco are down 0.3% each. Maruti Suzuki ended up 3.2% after reporting a strong 61% year on year net profit growth at Rs 1,284 crore for the fourth quarter ended March 31, 2015 on the back of higher volumes, material cost reduction initiatives, favourable foreign exchange and lower sales promotion expenses.
Among other shares, Bharti Infratel ended 6% higher after the firm reported 18% year on year (yoy) growth in its consolidated net profit at Rs 558 crore for the fourth quarter ended March 31, 2015 (Q4), on back of strong operational performance. Revenues grew 6% at Rs 2,947 crore on yoy basis.
Sterling Holiday Resorts ended down 4% after billionaire investor Rakesh Jhunjhunwala sold majority of shares held by him in Sterling Holiday Resorts (India) Ltd, for a cumulative trade price of Rs 67.21 crore.
Cholamandalam Investment and Finance gained 6% after the non-banking finance company posted 48% growth in net profit during the quarter ended March 31, at Rs 137 crore against Rs 92 crore for the same quarter of the previous financial year.
Broader markets witnessed profit taking after select stocks rose sharply in the previous sessions.
The BSE Mid-cap and Small-cap indices ended down 2.1-2.9% each. Wockhardt, Strides Arcolab, Gujarat Gas, JP Associates, Sadbhav Engineering and Fortis Healthcare were among the top losers in the mid-cap space down 7-18% each.
In the small-cap segment, Claris Lifesciences, Fulford (India), Shasun Pharma, Rolta India and HCL Infosystems down 8-12% each were among the top losers.
Market breadth ended weak with 2,061 losers and 666 gainers on the BSE.