179 million debit cards were issued during December 2016 to June 2018. A mere 2,000 ATMs were opened in the same period.
Nikhat Hetavkar reports.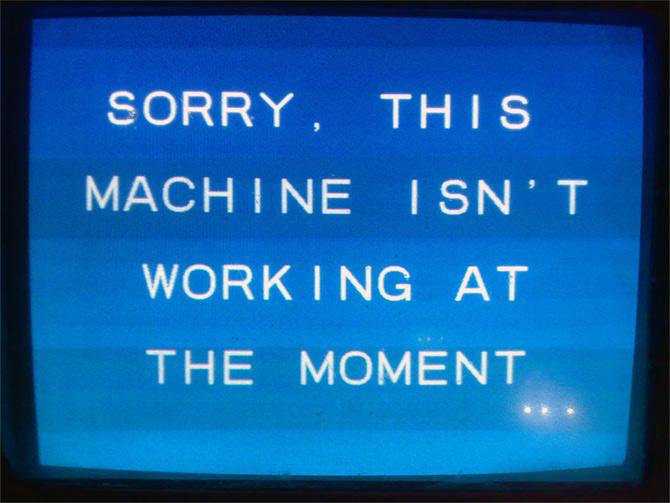 The number of ATMs in India has remained flat and banking outlets in villages have fallen even as millions of bank accounts have been created through the Pradhan Mantri Jan-Dhan Yojana (PMJDY) and debit card issues have multiplied after demonetisation.
The ATM industry warned that half of India's ATMs, especially in rural areas, will soon face closure, adding to the dismal penetration of ATMs in the country.
According to industry estimates, there are 18 ATMs for every 100,000 people in India against 173 and 63 in the US and China, respectively.
Under the PMJDY, 37 million beneficiaries were added and 179 million debit cards were issued during the period December 2016 to June 2018, while a mere 2,000 ATMs were opened during the same period.
PMJDY accounts and debit cards grew 26 per cent and 24 per cent, respectively, while ATMs grew less than 1 per cent.
It is rural India, however, who always gets the short end of the stick.
While cities have 80 ATMs per 100,000 customers, villages only have 10.
The debit card to ATM ratio in urban areas stands at fewer than 4,000 whereas rural areas have 12,000 cards for each ATM.
"It is the ATMs in rural areas that will be closed first since they fetch us the least money and the cost of carrying money is higher," said an executive of a leading ATM provider.
The number of banking outlets in villages, including branches and business correspondents fell over the previous year.
The number of bank branches in rural areas dropped by 55 over the previous year and business correspondents outlets dropped drastically, according to the Reserve Bank of India's latest annual report.
While the number of business correspondents in rural areas dropped by more than 28,000 over the previous year, urban locations covered by increased by over 40,000.
These numbers are in line with the views of the industry which says the feasibility of operations in rural areas is low.
This is owing to the pricing models not taking into account the higher costs and lower volumes involved in serving rural areas.
This has resulted in a higher concentration of business correspondents in urban areas, which detracts from their mandate of financial inclusion.
Global majors are increasingly taking share from local competitors in consumer growth in tier-2 and tier-3 cities, but that has not translated into newer entrants looking at the rural market as a playing field, said an industry player.
The issues are multifold.
"India is a vast market, we still need to improve on the Internet, telecom connectivity and electricity infrastructure. Many villages still witness hours of power cuts, which create hurdles in offering banking facilities," said Mandar Agashe, founder and vice-chairman, Sarvatra Technologies..
"Other than this, the population in rural areas varies from village to village. It becomes unjustifiable or unviable to provide a banking branch in each village," Agashe added.
Even fintech companies, which talk of financial inclusion and serving the rural population, only go as far as tier-4 cities.