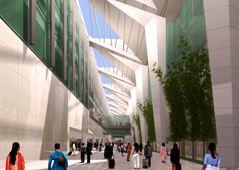 British Airways is reviewing its India operations strategy in the wake of 334 per cent hike in charges at the Indira Gandhi International airport in New Delhi, a senior official of the airline said on Wednesday.

"Aviation industry is going through a difficult phase, and with hike in airport charges -- which are too high, we are revisiting our strategy and assessing route profitability," Christopher Fordyce, British Airways' regional commercial manager (South Asia), said on Wednesday.

He said there are presumptions that other cities may also follow the Delhi airport's route, as infrastructure development were going on there too.

Fordyce said that while airport development was important 'then again the price escalation should also be taken into account as passengers will be affected due to it'.

Asked whether the airline was planning to pass on the hike to fliers, he refused to say anything but said "yes, passengers would be affected."

Other foreign airlines like
Lufthansa, Singapore Airlines and Virgin Altantic have joined Indian carriers in opposing the hike in airport charges.
British Airways has relaunched its in-flight menu to suit the taste and choice of Indian fliers, in collaboration with Oberoi Flight Services on its flights operating out of Delhi and Mumbai airports.
The passengers can now choose and enjoy specially designed dishes like salmon and crab meat parcel, pan seared prawns, coriander vinaigrette, Kareli rogan josh, honey glazed ham and others for breakfast, main course, snacks, patisserie and desserts.
"India is a key market for BA and we are committed to serving best-in-class onboard our flights from India.
Introducing a refreshed menu, specially created and launched for Indian customers is one of our continuous endeavour to improve their in-flight experience," Fordyce said.
India being the second largest market after the UK, he said, British Airways has announced a five billion pound investment over the next five years focusing on new aircraft, smarter cabins, elegant lounges and new technologies.