Uttar Pradesh government's plan for an international airport in the Agra-Mathura region appears to have run into rough weather.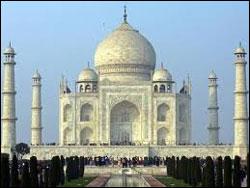 Barely five months after Chief Minister Akhilesh Yadav dropped his predecessor Mayawati's proposed site for an international airport at Jewar along the Yamuna expressway, realisation has dawned on the government that even the Agra-Mathura region was not the ideal place for the ambitious project.
What has come in the way were the rich heritage monuments - Taj Mahal to top it all, together with the Agra Fort and Fatehpur Sikri.
"More than anything else, the magnificent Taj Mahal itself would be under threat if the airport was made close to it. Already there was one Indian Air Force (IAF) base in Agra, while another was located at Gwalior, barely 100 km away. Hence it was least advisable to allow construction of an international airport that would eventually serve like a huge aviation hub," pointed out a top government official in Lucknow.
"We have therefore hired a consultant to suggest an alternative site that would be free of all hurdles around Taj, that draws the highest number of international tourists," he added.
Significantly, the Mayawati government's proposal for Jewar was stalled by the Union civil Aviation ministry on the plea that it would fall within 150 km of the existing Indira Gandhi International Airport at Delhi.
The new site for Taj international airport in the vicinity of Agra- Mathura was given immediate nod by the civil aviation ministry largely because Union Civil Aviation Minister Ajit Singh, who saw it as a feather in his MP son, Jayant Chaudhary's cap. Jayant is the Rashtriya Lok Dal member of the Lok Sabha from Mathura.
While the UP government has already floated a tender for selection of a consultant , what remains a million dollar question is whether he would be able to identify a site that would conform to civil aviation norms without disturbing the tranquility and safety of what is regarded as the among the world's most precious heritage.