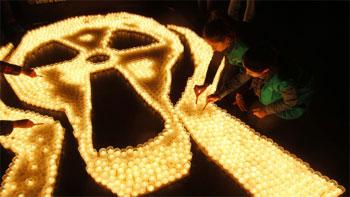 A move is afoot to withdraw tax exemption for donations to Greenpeace even as nearly 180 organisations and activists rallied behind the NGO accusing the government of a "shameful" crackdown against it.
Sources said central security agencies including those associated with financial intelligence have recommended such a course against the NGO on grounds of alleged financial irregularities in contributions received by it from abroad, a charge denied by the organisation.
Donations to Greenpeace enjoy 50 per cent exemption under the provisions of 80-G of the Income Tax Act.
According to the sources, the security agencies have recommended that this exemption should be withdrawn
after the home ministry withdrew Foreign Contribution Regulatory Act licence to the organisation.
"It is orchestrated attack on free speech, constitutional rights and India's democratic fabric. The new line of attack questioning the charity status of Greenpeace has no more justification than blocking foreign funding or offloading Priya Pillai. "Greenpeace India has nothing to hide and will continue to campaign for a sustainable and just future for Indians. Such attempts of clampdown only make us stronger," said Samit Aich, executive director of Greenpeace India.
Meanwhile, 180 activists and organisations have protested and a letter in this regard has been submitted to Home Minister Rajnath Singh.
The letter termed the crackdown as "shameful" in a country that has a history standing up for social justice, ecological sustainability and the rights of the poor.