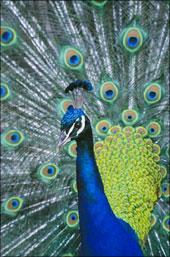 To save the endangered national bird peacock from extinction, government has made plans to ban trade of its feathers, Environment Minister Jairam Ramesh said on Monday.
He expressed concern that the demand for the feathers outstrips the supply leading to rampant poaching and killing of the birds for the purpose of their feathers.
To initiate the process, the ministry has proposed to amend Sections 43(3)(a) and 44 of the Wildlife Protection Act 1972, which relate to the transfer and sale of peacock feathers.
"The proposed amendment is intended to prevent the illegal trapping and killing of the national bird for their tail feathers," the minister added.
Currently, the Act prohibits the killing of peacocks as well as export of tail feathers or articles made from them.
But, the Act allows domestic trade in feathers or articles under the assumption that these are naturally shed. However, it has been found out that poachers strangle the birds and pluck out its shiny blue-green tail feathers, which are often used as decorations.
Following the amendment, section 43(3)(a) and section 44 will no longer exempt those possessing a certificate of ownership for peacocks from transferring or selling the tail feather and articles or trophies made from them, a senior environment official added.
"We have invited suggestions and objections and within a month would come out with an ordinance for amendments," the official added.