In its probe into global retail giant Wal-Mart's lobbying activities in the US for entry into India, the government on Wednesday the general public to provide it with all the important information available with them on the matter.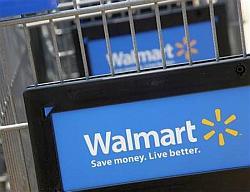 The government has appointed a one-man Inquiry Committee, headed by former Chief Justice of Punjab & Haryana High Court Justice Mukul Mudgal, to inquire into reports on the US lobbying activities of Wal-Mart for access to India market.

The Committee has to submit its report within three months and it is being provided administrative and functional support by the Ministry of Corporate Affairs in its probe.

"Now, the Government of India is inviting all members of the public to furnish information having a bearing on the Terms of Reference including document(s), if any, within a fortnight to the Convenor, Wal-Mart Inquiry Committee," the Corporate Affairs Ministry said in a statement.

Following reports about Wal-Mart's lobbying activities among the US lawmakers since 2008 for facilitating its access to Indian market, the government late last year assured in Parliament to get the matter probed by a retired judge.

Subsequently, the government set up the inquiry committee, whose terms of reference include inquiring into "media reports on disclosures of Wal-Mart before the US Senate regarding their lobbying activities and details thereof."

The committee would also look into "whether Wal-Mart undertook any activities in India in contravention of any Indian law", and any other matter relevant to this issue.

The Indian government initiated this probe into the lobbying activities by Wal-Mart in the US for gaining access to Indian market, after disclosures about these activities caused a furore and a political debate in India in December.

However, Wal-Mart has continued to lobby with the American lawmakers on issues related to foreign investment norms in India, as also others, and spent a total amount of $6.13 million on the same during 2012.

As per the latest Congressional records of lobbying disclosure reports, the US-based Wal-Mart Stores spent a total amount of $1.48 million (about Rs 8 crore) on lobbying for various issues, including on "discussions related to FDI in India", during the last quarter ended December 31, 2012.

This has taken the total lobbying bill of the company for entire 2012 to $6.13 million (about Rs 33 crore), the lobbying disclosure records available
with the US Senate show.
Wal-Mart has been lobbying with the US lawmakers on dozens of issues every quarter, whose disclosures it is mandatorily required to make under the American regulations.
The company has, however, maintained that these disclosures have nothing to do with political or governmental contacts with India government officials and they only show that Wal-Mart's business interest in India was discussed with the US government officials along with many more other topics.
Wal-Mart has been waiting for years to open its supermarkets in India and it has been lobbying with the US lawmakers since at least 2008 to facilitate its entry into the highly lucrative Indian market.
Its total bill on these activities has now crossed 34 million (about Rs 180 crore) since 2008, which has been incurred on account of lobbying for more than 50 issues every quarter, including the issues related to "enhanced market access for investment in India".
However, the amount spent by Wal-Mart in last quarter was lower than $1.65 million incurred in the previous three-month period ended September 30, 2012, when also one of its lobbying issues was "discussions related to FDI in India".
Its annual lobbying bill also fell to $6.13 million in 2012, from $7.84 million in 2011. Prior to that, it had spent $6.16 million in 2010, $7.39 million in 2009 and $6.59 million in 2008.
The companies are allowed to lobby for their cases in various departments and agencies in the US, but they are required to file their lobbying disclosure reports every quarter with the US Senate.
As per Wal-Mart's lobbying disclosure reports, the company has continuously lobbied for its India entry since 2008, except for a few quarters in 2009.
Indian government recently opened up its multi-brand retail sector for foreign companies after years of political opposition and a Parliament motion against this decision was defeated last week in both Lok Sabha and Rajya Sabha.
The US-based supermarket chain operator Wal-Mart Stores, which has an annual turnover of $444 billion and a world-wide headcount of 2.2 million, has been waiting for a long time to enter India.
The Indian retail market is estimated to be worth about $500 billion currently and is pegged to cross $1 trillion mark by 2020, given the rising personal income and growing consumer spending trends.
India is one of the most favourable destinations for international retailers and an accelerated retail growth of 15-20 per cent is expected over the next five years.