The rupee on Wednesday slipped from around four month high level to close three paise down at 53.16 due to fag-end dollar demand from oil importers and strengthening of the US currency against euro.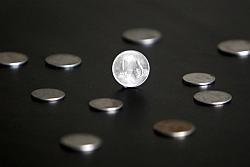 Forex dealers said, however, sustained foreign fund flows capped rupee's fall to some extent.

The domestic currency commenced the day strong at 52.96 from yesterday's close, when it had hit an over three-and-a-half-month high of 53.13.

At the Interbank Foreign Exchange (Forex) market, it hovered in a narrow range of 52.89-53.26, before settling down at 53.13, a loss of three paise, or 0.06 per cent.

Foreign institutional investors pumped in $92.03 million (Rs 489.27 crore) into local stocks, according to BSE provisional data.

Pramit Brahmbhatt, CEO, Alpari Financial Services (India) said: "The rupee reversed early gains towards the end of session tracking risk aversion in global markets. The dollar demand at lower levels also limited the strength in rupee."

The euro fell by 0.4 per cent to 1.3528 toward a one-week low versus the dollar as European Central Bank policymakers prepare to meet tomorrow amid political and banking turmoil that threatens to renew the region's sovereign-debt
crisis.
"The slight recovery in the euro above 1.35 levels made the rupee to appreciate initially. The weakness in the euro and Negative stock markets added more pressure on the rupee," said Abhishek Goenka, Founder and CEO, India Forex Advisors.
The dollar index, a barometer of six major global rivals, was up by 0.25 per cent.
Meanwhile, the BSE benchmark Sensex closed 20 points down at 19,639.72.
The premium for the forward dollar closed higher on fresh paying pressure from banks and corporates.
The benchmark six-month forward dollar premium payable in July ended up at 184-1/2-186-1/2 paise from Tuesday's close of 182-183-1/2 paise.
Far-forward contracts maturing in January also finished strong at 346-348 paise from 341-1/2-343 paise.
The RBI fixed the reference rate for the US dollar at 53.0855 and for euro at 72.0165.
The rupee continued to rule firm against the pound sterling to 83.27 from last close of 83.76 and also improved further to 71.97 per euro from 72.03.
It remained strong against the Japanese yen to 56.76 per 100 yen from previous close of 57.06.