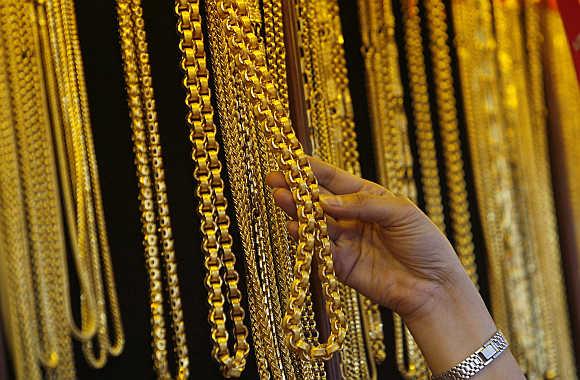 It might fall below Rs 24,000 for 10g in the short term
Gold prices are likely to remain subdued in the near-term if the US Fed increases interest rates -- as experts expect -- following recovery in the country's economy.
The timing as well as quantum of the hike holds the key to gold price movement. Analysts maintain a negative outlook for gold prices this year.
While India Ratings and Research (Ind-Ra) forecasts gold price to fall to range between Rs 20,500 and Rs 24,000 for 10 grams, Emkay Commotrade anticipates gold prices to consolidate in a tight range of Rs 24,850-24,700 for 10 grams.
Gold is currently trading at Rs 25,200 for 10 grams in the spot market in the popular Zaveri Bazaar in Mumbai.
"We believe movements in gold prices will largely depend on the US' interest rate decision.
In the event of a US rate hike, global gold prices could drop and range between $900 and 1,050 an oz," said Deep N Mukherjee, senior director (corporate ratings) at India Ratings and Research.
According to a recent survey by Thomson Reuters GFMS, world gold demand declined 14 per cent in the April-June quarter at 858 tonnes, a level not seen since 2009.
Normally, gold prices move up in case of geo-political tensions or global economic crisis.
However, gold touched a five-year low last week following the economic crisis in Greece.
This time, however, heavy selling continues from China, which has accumulates gold as its financial reserves in the past several years.
With the Chinese economy faltering, which reflected in steep decline in the country's equity market and massive pumping of funds from the government to prevent any crisis, problems look deep rooted in China.
"If the US does not raise interest rate as promised, gold price might end this year at $1,250-1,300 an oz.
In this case, gold price would rally in January 2016.
In case the US raises interest rate to a symbolic level then, it will cause exchange traded funds to unwind to the level of 2008-09, when gold was hovering around $900 an oz," said Mukherjee.
Central banks in the European Union, Russia, China and India on an average in the past six years have been net buyers of 460 tonnes of gold annually.
Till such time the uncertainty around global growth is reduced, the chances of international gold prices falling below $900 an oz, corresponding to pre-2009 levels, are remote.
Gold prices and the dollar index historically have a negative correlation, but there have been occasional bouts of a positive correlation for a short term. Gold prices might weaken with the expectation of an increase in the US real interest rates.
If the gold price behaviour during September 2012-June 2013 is tentatively used as a benchmark, an increase in US interest rates might cause gold price to fall by 20-25 per cent, Ind-Ra said.