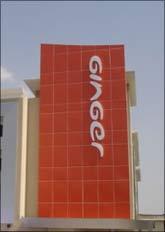 Tata Group's Ginger Hotels is among the bidders for 15 of the 43 multi-functional complexes offered for development by the Rail Land Development Authority so far this year.

RLDA is a statutory authority established by the ministry of railways for generating non-fare revenue from railway land.

Other prominent bidders for the MFCs were Pantaloons, Cafe Coffee Day, The Loot, Woodland, Apodis Hospitality Krishnan Palace Residency and WH Smith (Travel News Services), RLDA general manager A K Gupta told media here on Thursday.

To develop facilities for rail users, Indian Railways had introduced the concept of MFCs at railway stations.

The MFCs would have shopping stores, food stalls/restaurants, book stalls, automated teller machines, medical stores, parking facilities and, if the size of the site is at least 1,500 sq metres, budget hotels.

Gupta said select railway land, usually 1,000-3,000 sq metres at stations, had been identified for MFCs.

Bids were invited for a one-time lease premium and annual lease rent; successful bidders were given the land on a 45-year lease. After the lease period, MFCs would be transferred to the railways.

RLDA had 164 suitable sites for MFCs at various railway stations across the country, Gupta said.

An action plan had been prepared to fast-track the development of 75 MFC sites this year.

So far, RLDA has invited nine bids to develop 43 MFCs in northern, western and southern India. Railway stations where MFCs would be developed include Dehradun, Ujjain, Anand,
Somnath, Gulbarga, Vijayawada, Amritsar, Amethi and Chandigarh.
Gupta said through bid amounts of Rs 1-10 crore (Rs 10-100 million), depending upon the location and size of the MLC, RLDA expected to raise Rs 300-400 crore (Rs 3-4 billion) from the 164 sites.
So far, the MFC at the Jhansi railway station has secured the highest bid amount -- Rs 8.5 crore (Rs 85 million).
MFCs at 26 railway stations have been developed by the RLDA, Ircon Infrastructure & Services Ltd and RITES Ltd.
Now, RLDA plans to lease out the MFCs located at Haridwar, Udaipur, Raipur, Madurai, Allahabad Jabalpur, Burdwan, Manmad, Guntur, etc.
To develop MFCs at eight railway stations in Andhra Pradesh, RLDA held a pre-bid conference on Thursday.
Real estate consultants Knight Frank and Jones Lang LaSalle are advising RLDA in planning and marketing the MFC sites.
The railways has surplus land of 502 hectares in 54 locations.
RLDA plans to offer these sites to the highest bidders and expects to raise Rs 1,000 crore (Rs 10 billion) from these this year.
THE GREAT INDIAN RAILWAYS PLAN
Multifunctional complexes at railway stations would house shops, food and book stalls, ATMs, medical stores, car parks and if possible, budget hotels
Rail Land Development Authority has so far invited nine bids for development of 43 such complexes
Pantaloons, Cafe Coffee Day, Woodland, Krishnan Palace Residency and WH Smith (Travel News Service) are among the other prominent bidders for these complexes
The authority has prepared a plan for fast-tracking the development of 75 complexes in the current financial year