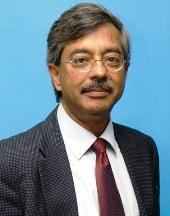 Pramod Bhasin, the founder of the country's largest business process outsourcing company, was one of the few early bird's to identify the tremendous potential of the back-office business in India.
Credited as the the man behind India's burgeoning BPO industry, Bhasin founded Genpact in 1997, at a time when India had begun to be identified as an IT services hotspot but the idea of getting back-office work done from the country at half the cost was still new. It took a lot of convincing of top GE bosses by Bhasin to make them agree to outsource part of the company's back-office work to India.
In his journey of putting India on the world map as the hottest BPO destination, Bhasin went on to build a mammoth workforce of 44,000 people and push the BPO's revenues to $1.12 billion, besides winning it a reputation few could question.
So, when the 59-year-old Bhasin decided to pass the mantle on to his colleague N V 'Tiger' Tyagarajan, it came as a surprise to many, especially when he had six more years to go at Genpact.
There is no denying
that the man has the capacity to stun. He has done that with his decision to start Genpact, the recent acquisition of Headstrong and by stepping down as the CEO.
Bhasin's career with GE and RCA has spanned 25 years across the US, Europe and Asia.
A chartered accountant from Thomson McLintock & Co, London, he holds a bachelor's degree in commerce from the Delhi University.
He has earlier been the chairman of the National Association of Software & Services Companies, and remains a member on the board of trustees of the Nasscom Foundation.
Bhasin is the chairman of the CII Services Council and also serves on the boards of NDTV and SKS Microfinance.
He is also the chairman of the Junior Achievement India Founders Board, besides being on the governing boards of several educational institutions, including IIM Lucknow, Lady Shri Ram College, and Shri Ram School.
On his journey ahead, Bhasin says, Genpact will continue to take 25 per cent of his time.
And, in his spare time, he says he "will do other things"
He intends to "explore opportunities in skill development, education or government".