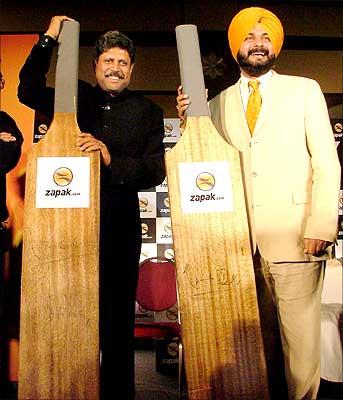 Zapak Digital Entertainment Limited, a Reliance ADA Group venture, formally launched India's first full-feature online multiplayer cricket game in New Delhi on Tuesday.
Former captain of the Indian cricket team Kapil Dev and former opening batsman Navjot Singh Sidhu were present at the event.
You can start playing immediately by visiting Zapak.com as this game does not require any installation of programmes, so no CDs, no requirements for memory space on the computer. You can log on to Zapak.com and play this game for free against anyone in the world immediately.
The two cricketing stalwarts feigned ignorance and claimed that whatever they know about the computers they have learnt it from their kids. The two sat on two different computers and chatted with each other over their microphones for the benefit of the media persons who were present in strength to capture the event.
Kapil wondered how much it would have helped him in organizing his life if the online computers or the slow motion cameras had been available during his time. "It is wonderful to Sreesanth bowling in slow motion. It is nice to see him how the seam hits in a particular angle. It he can do it three times in six balls, he is going to be a world beater," Kapil said.
Sidhu said that the online gaming is going to be a great hit with the children as they tend to spend more and more time on computers. "If you prevent them, then they will do so when you are not there," he said.
The company had not consulted any former cricketers to develop the game. "Our animators had seen one thousand days of matches and kept their experience in mind while coming out with the cricket games. We already have over 300 of them and another five hundred are being added," said Rajesh Sawhney, president, Reliance Entertainment.
"Online gaming is a nascent concept in India. We are today offering games across various genres to suit the requirements of all age groups. Cricket is not just a passion, but a religion in India. It presented us with a huge opportunity. Today we have launched the world's first full feature online multiplayer cricket game," he explained.
According to the statistics released by the Zapak the company is going to invest $100 million in next three years to promote and market gaming in India. It is also going to open special gaming cyber cafes.
Online gaming is likely to touch $7billion mark by the end of 2008. By 2010 there will be more then 20 million broadband subscribers. "The future looks bright as 54 per cent of India's population is below the age group of 25," Rohit Sharma, chief operating officer, said.
Former Indian cricket captain Kapil Dev (L) with former opening batsman Navjot Singh Sidhu at the launch of the new multiplayer cricketing game from Zapak.com. Photograph: Saab Press