Samir Kuckreja, former managing director of Nirula's in Delhi and president of the National Restaurant Association of India, says the last six months have been challenging for the sector.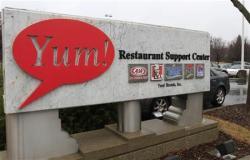 "Growth levels are down. From about 15 per cent last year, sales growth has slowed to about 10 per cent now," he says.

Among other reasons, Kuckreja blames the late onset of the festive season this year and the fact that people are staying at home as a result of the slowdown.

"September-October is when you have Navratras. People fast and, therefore, prefer not to go out and eat. During Diwali, people prefer organising parties at home. This, too, means eating out is a bit less," he says.

Even if one doesn't take the festive season into account, all is not well for the average food chain. Jubilant Foodworks, the Noida-headquartered franchisee of Domino's and Dunkin Donuts in India, saw same-store sales growth fall to 19.8 per cent for the three months ended September, the lowest in thirteen quarters.

Ajay Kaul, chief executive, Jubilant Foodworks, admits same-store sales growth has slowed in the last year. "If same-store sales growth for the last three years for Jubilant is taken into account, the figure stands at about 37 per cent," he says, adding, "But yes, the last one year has seen same-store sales growth slow to about 13 per cent."

Kaul admits growth in the frequency of pizza consumption has fallen. The situation is no different with other fast food items such as pasta or noodles.

However, Amit Jatia, vice-chairman, HardCastle Restaurants, which manages McDonald's outlets in west and south India, says despite the rise in overall inflation, he has seen no significant impact on the consumption of burgers in the last few months.

"With our burgers priced Rs 25-80, I don't think we are too heavy on people's pockets," he says. "If anything, we've attempted to limit product price rises to the least, despite the inflation."

Analysts tracking the fast-moving consumer goods sector say one of the key reasons for the slowdown food chains are seeing is inflationary pressures have been high, and this has forced consumers to cut back on products perceived to be non-core.

Prices
of essentials such as wheat, milk and sugar have been volatile in the last few months. Wheat prices, for instance, rose about 30 per cent between June and November, while sugar prices rose 18 per cent, according to data sourced from the National Commodities & Derivatives Exchange and the Bombay Sugar Association, respectively.
The National Council for Applied Economic Research has said prices of commodities such as potatoes, onions and pulses could soar due to the uneven rains this year. Though there was a revival in the rains in September, it hasn't been able to arrest agro-commodity inflation.
As a result, headline inflation continues to be high. At 7.5 per cent, wholesale price index-based inflation continues to remain above the Reserve Bank of India's comfort zone of three to four per cent. Consumer price index-based inflation stands at eight per cent.
How are companies dealing with the situation? Both Jatia and Kaul say rigorous focus on costs is the way out. In an attempt to drive footfalls, food chains are also beginning to explore the potential of value meals.
Pizza Hut, for instance, is offering vegetarian meals at prices beginning Rs 99 a person between 11 am and 7 pm on weekdays; prices of non-vegetarian meals start from Rs 129 a person. In the evenings, vegetarian meals are offered at prices starting Rs 149, while prices of non-vegetarian meals start at Rs 179 a person.
Executives at Yum! Brands, which operates the Pizza Hut brand, say the initiative, being advertised aggressively on television, has seen good response.
McDonald's, too, has launched a similar initiative. Jatia says value meals are a good way to get consumers into stores. "It also sends the message that you are sensitive to the inflation. More often than not, consumers often react positively to this," he says.