A group of farmers bodies under the banner of a Kisan Coordination Committee have petitioned the Prime Minister in strong opposition to the revised National Food Security Bill.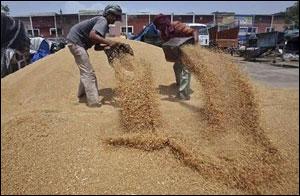 They say it would discourage small and marginal farmers, since the Bill would encourage the government to restrict the Minimum Support Price (MSP) for any food crop and also the retail sales prices.
"The Bill will virtually lead to nationalisation of agriculture, by making the government the biggest buyer, hoarder and seller of foodgrain which will greatly distort the market mechanism and reduce the bargaining power of farmers," said Sharad Joshi, head of the Maharashtra-based Shetkari Sanghatana.
The Bharatiya Kisan Union and the Mahila Aghadi have also opposed.
Joshi said by offering wheat at Rs 2 a kg and rice at Rs 3 a kg, small and marginal farmers would be weaned away from farming. The efect would be like the impact of the rural job gurantee programme, leading to a rise in labour cost without adequate addition to agricultural production.
The committee said as the Bill was expected to increase the fiscal deficit of the government significantly, due to the rise in food subsidy, the government will under pressure to limit the growth in MSP, while keeping the selling price low, thereby squeezing farmers from both sides.
The Union cabinet recently cleared the revised version of the proposed Bill, seeking to guarantee a legal entitlement for subsidised foodgrain to almost 67 per cent of the Indian population. It will provide five kg of wheat, rice or coarse cereals per person per month to about 800 million Indians. Wheat will be sold at Rs 2 a kg, rice at Rs 3 a kg and coarse cereals at Re 1 a kg.