The government might be finding the Vijay Kelkar panel's recommendations on subsidy reduction too hot to handle but it is eager to implement the committee's suggestions on curbing the cash economy to counter black money.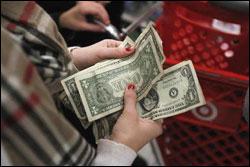 According to a senior finance ministry official, Finance Minister P Chidambaram is in favour of launching a systematic plan to counter black money through extension of electronic payment systems through the country, especially covering all government transactions.
The official said officials had already started work on the minister's views on the Kelkar panel's various recommendations, and a meeting under Economic Affairs Secretary Arvind Mayaram in this regard took place on Friday.
He added that besides concretisation and implementation of an electronic payment system across the board in government transactions, including tax collection and expenditure, important measures to curtail use of unaccounted cash in the subsequent elections were in the offing.
The Kelkar committee said: "The movement towards electronic payments for all government transactions, and a general reduction in the usage of cash in the economy will help transition from the informal economy to the formal economy. This will help curb corruption, increase transparency and accountability."
It has pointed out an efficient and ubiquitous large and small value electronic payment system throughout the country would make it possible for the Centre to accurately predict and collect revenues on the one hand, while managing expenditure efficiently on the other.
The government is already working on a blueprint for setting up an expenditure information network (EIN), designed to track government expenditure in real-time from the finance ministry to the actual beneficiary.
The committee has noted EIN will lead to efficient utilisation of funds, since funds can be allocated just-in-time when the expenditure is incurred, rather than well-in-advance of the actual spending.
The design of EIN makes it possible to operate across multiple levels of the government, across various types of government bodies, and provides real-time end-to-end visibility, transparency and full accountability for all expenditure.
Though its implementation has been slow and the state governments and other stakeholders sluggish in taking the required steps, the Aadhaar-based electronic benefit transfer system for payment of subsidies and entitlements to the actual beneficiaries is also being seen as a major step towards curbing corruption.