The government on Thursday said fiscal deficit -- gap between expenditure and revenue – could overshoot the Budget target and touch 5.3 per cent of the GDP this financial year.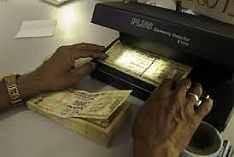 "I dont think we will be able to contain fiscal deficit to our Budget plan of 5.1 per cent (of GDP). It could be 5.2 to 5.3 per cent, which is doable," Department of Economic Affairs Secretary Arvind Mayaram told reporters in New Delhi.

The government in its 2012-13 Budget had estimated the country's economic growth in the range of 7.6 per cent and fiscal deficit at 5.1 per cent.

In the first four months of 2012-13, fiscal deficit has already crossed 50 per cent of Budget Estimate of Rs 5.13 lakh crore, or 5.1 per cent of GDP.

According to the Prime Minister's Economic Advisory Council (PMEAC), India's Gross Domestic Product (GDP) is likely to be 6.7
per cent this fiscal given the economic slowdown.
The Finance Ministry had recently assured the industry that it would soon come out with steps to contain fiscal deficit.
Besides other reasons, subsidy outgo on petroleum products is putting pressure on the government finances.
While the government recently hiked diesel prices and decided to cap the supply of subsidised LPG cylinders to domestic consumers, high crude oil prices in the international markets continue to remain a concern.
To a related query, Mayaram said, "I don't know what the movement will be of petroleum prices".
The international crude oil price for Indian Basket was USD 108.03/barrel (bbl) yesterday, calculated by a wing of Oil Ministry.