Shares of DLF on Wednesday slipped over 4 per cent on fresh allegations by activist Arvind Kerijwal about company's nexus with Robert Vadra and Haryana Government - although the charges have been rejected by the realty major.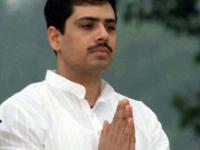 After making a weak opening, shares of the company further lost 4.37 per cent to Rs 214.40 on the BSE.

At NSE, the scrip was down 4.39 per cent at Rs 214.35.

The stock has been under pressure since last three days.

Arvind Kejriwal on Tuesday demanded a probe by retired Supreme Court judges into the business relationship between Robert Vadra and DLF and a white paper by Haryana
government on the benefits it allegedly gave to the realty major.
DLF, however rejected the allegations saying, "We stand by our earlier statement and wish to once again specifically state that DLF has neither sought nor enjoyed any special favours from the Government of Haryana and all developments of DLF undertaken over the last four decades are strictly in compliance with all applicable laws, rules and regulations with an adherence to the highest ethical standards."
The company had said an attempt was being made to sensationalise issues which are already in the public domain.
Haryana government has also rejected Arvind Kejriwal's charge about a nexus between state officials and DLF.