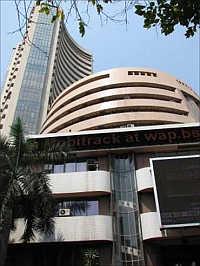 Markets slipped following a lacklustre trading session with visible selling pressure in realty and banking shares.

Weak global cues dampened investors further.

BSE Sensex was down 162 points at 18,631. Nifty slipped 52 points at 5,652.

Investors fretted about the world's economic prospects after the International Monetary Fund downgraded its global growth estimates for 2012 and 2013.

In Asia, the Nikkei slumped 2% to 8,596, followed by Shanghai Composite and Hang Seng. Asian markets dropped in trades with Japan slumping 2% on technology and steel firms taking a hit as concerns about growth and earnings weighed.

Visiting US Treasury Secretary Timothy Geithner and Federal Reserve Chairman Ben Bernanke today met corporate India leaders and discussed the recent American policy measures like the quantitative easing and the economic climate in the country.

"We got briefed by both on the US economic situation. We briefed them on India and said we were very confident now that the reform process is taking place," Godrej group Chairman Adi Godrej told reporters after the breakfast meet arranged by industry lobby CII, which he heads.

Meanwhile, the rupee touched 53.15 against the dollar in the afternoon trade after Standard and Poor's downgrade warning and demand for the American currency by importers persisted.

All the sectoral indices, barring FMCG index, dropped into the negative zone with the realty index slipping 4.6% to 1,803. Power, capital goods, bankex and PSU indices shed around 1-2% each.

BHEL tumbled 2% to Rs 245 after an inferno took grip of block number 3 this morning. BHEL has its mother plant in Bhopal and fire incidences are often reported here.

SBI was the biggest loser -- down 2.3% at Rs 2,227.

Other banking shares - ICICI Bank and HDFC Bank accounted for a 30 points loss on the benchmark.

Other losers included Tata Power, Hindalco, BHEL and NTPC.

However, ITC and Hero Motocorp held on to gains -- up nearly half a per cent each.

DLF dipped 5% to Rs 213 on the National Stock Exchange after a fresh allegation from activist-turned-politician Arvind Kejriwal accusing the Congress-led Haryana government of favouring realty major.

PSU OMCs fell as US crude oil futures surged to the highest level in a week on Tuesday amid increased Middle East tension.

BPCL, HPCL and IOC dropped around 2% each.

Cairn India informed markets on Tuesday that in Q2 September 2012, the average daily gross operated production of oil and gas was 207,245 barrels of oil equivalent (boe), 22% higher than the corresponding prior period.

Shares of Cairn India ended down 1% at Rs 327.

Canara Bank tumbled 1.8% at Rs 428 after it introduced a new retail loan scheme, which provides for purchase of consumer durables like LED Flat Screen TV, Microwave Oven, Sofa set and many other articles a customer aspires for.

Car sales in India fell in September for the second consecutive month, an industry body said on Wednesday, as high interest rates, rising fuel costs and slowing economic growth continued to drag down demand.
Cummins India, Mahindra & Mahindra, Exide Industries, Bharat Forge and Ashok Leyland were some of the key losers in the sector.

Ranbaxy Laboratories slipped 0.7% at Rs 534, reversing Tuesday's 1.96% gains triggered by the company's subsidiary launching an authorised generic drug in United States under an agreement with Daiichi Sankyo, Inc.

Polaris Financial Tech slipped 5.6% after the market regulator Sebi banned the company's promoter Arun Jain from dealing in the securities market for two years accusing him of violating insider trading norms.

BSE market breadth was fairly negative. Out of 3,031 stocks traded, 1,929 shares declined while 978 shares advanced in trades.