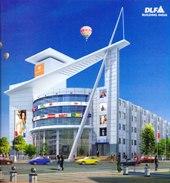 India's largest realty firm DLF has reported 38 per cent fall in consolidated net profit at Rs 181.19 crore (Rs 1.81 billion) for quarter ended June 30, 2013, on higher expenses.

Profit stood at Rs 292.79 crore (Rs 2.92 billion) in the year-ago period.

However, income from operation increased by 5 per cent to Rs 2,314.08 crore (Rs 23.14 billion) in the first quarter of this fiscal compared with Rs 2,197.71 crore (Rs 21.97 billion) in the corresponding period of last fiscal.

The board re-appointed KP Singh as Chairman for a period of 5 years with effect from October 1, 2013, and co-opted Rajiv Krishan Luthra and Pramod Bhasin as additional Directors in capacity of Non-executive Independent Directors, DLF said in a filing to the BSE on Monday.

Luthra is Founder and Managing Partner of Luthra & Luthra Law Offices while Pramod Bhasin was the former President and Chief Executive Officer of Genpact.

DLF's net profit fell in the first quarter of this fiscal mainly due to 20 per cent increase in the total expenses to Rs 1,576.71 crore (Rs 15.76 billion) from Rs 1,309.26 crore (Rs 13.09 billion) in the year-ago period.

"Although profit is lower than the year-ago period, it has jumped sharply from a loss of Rs 4 crore (Rs 40 million)
loss in fourth quarter of last fiscal," DLF Group CFO Ashok Tyagi told PTI.
During the quarter, the company achieved sales bookings of Rs 2,430 crore (Rs 24.3 billion) compared to a total of Rs 3,800 crore (Rs 38 billion) for the full year of FY13, DLF said in a statement.
The realization from divestment of non-core assets stood at Rs 215 crore (Rs 2.15 billion) and proceeds from the IPP at Rs 1863 crore (Rs 18.63 billion) during the quarter, helping the company in reducing debt.
The net debt fell to Rs 20,369 crore (Rs 203.69 billion) at the end of the June quarter from Rs 21,731 crore (Rs 217.31 billion) as on March 31, 2013.
"The company reiterates its annual guidance of net debt reduction to Rs 17,500 crore (Rs 175 billion) by end of FY14," DLF said.
During first quarter, DLF said that its joint venture firm DLF Pramerica Life Insurance posted a loss of Rs 20 crore (Rs 200 million), while hotel business reported a profit of Rs 10.44 crore (Rs 104.4 million).
DLF has 320 million sq ft of planned projects with 52 million sq ft of projects under construction.
The company's shares were trading at Rs 142.90, up 3.14 per cent, in late morning trade on BSE.