Campuses have witnessed a growing demand for technical and digital skills, even from conventional, non-digital sectors such as coal, energy and shipping and marine.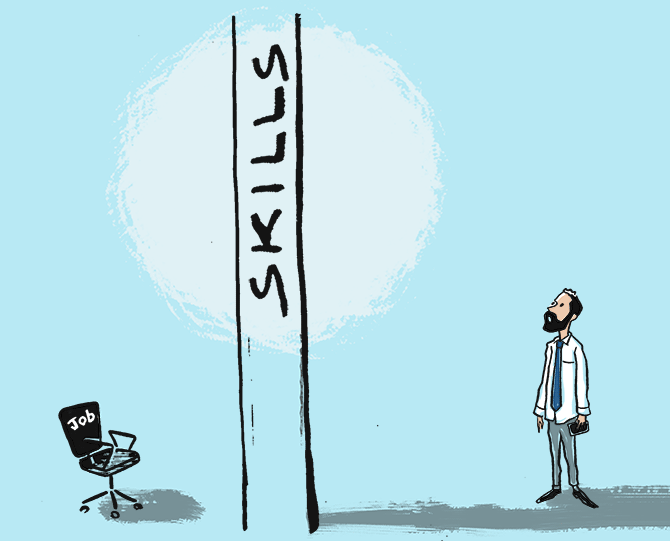 The Indian IT services sector is scrambling to retain talent since digitisation-led transformat­ion has increased the dem­a­nd for a digitally skilled workforce.
As a result, the pull for jobs for tech professionals is also coming from non-IT sectors, leading to higher attrition among IT companies.
The average number of tech jobs from non-IT sectors has seen a 41 per cent uptick in March-May'21 versus March-May'19, according to data from Naukri.com.
Hir­ing for tech roles has grown by over 2x in industries like fast moving consumer goods (FMCG) and education­/tea­ching.
Sectors such as animation/gaming (1.7x), retail (1.6x) and insurance (1.4x), too, have seen an upward demand for tech professionals in the same period.
The company also shared that among the major non-tech firms that are hiring on Naukri.com are Glaxo­Smith­Kline Pharmaceuticals, Shell, Bajaj Finserv, Wells Fargo, Walmart, Zydus Wellness, Colgate-Palmolive, Godrej Industries, H&M, Adidas, Byju's and EA Games.
Campuses, too, have witnessed a growing demand for technical and digital skills, even from conventional, non-digital sectors such as coal, energy and shipping and marine.
"Technical and digital skills are in high demand. Almost all the sectors now have digital profiles at entry-level hiring," says Kishor Bhurchandi, associate dean, Training & Placement, Vis­vesvaraya National Institute of Technology (VNIT), Nag­pur.
The institute saw profiles like advanced application engineer, analyst, data analyst, developer/software engineer, Java developer, software developer, software engineer and Unix DB being offered from across sectors.
With more than 143 companies visiting the campus this year, compared to 130 last year, students have been offered profiles largely in technical or digital domains, followed by business development, electrical/chemical/electronics engineer, ope­r­ations manager and re­se­arch engineer, to name a few.
Similarly, edtech platforms such as Coursera have also seen a rise in demand for digital and technical skills amid the pandemic.
"The pandemic has further accelerated digital transformation across industries, threatening many jobs and reducing the skill shelf-life," says Raghav Gupta, managing director, India and APAC, Coursera.
"In the changing business landscape, workforce upskilling, across functions and job roles, has inc­reasingly become a priority for companies worldwide."
According to Gupta, with data being crucial to decision-making, digital skills have taken centre stage.
"We are also seeing an equal focus on building human skills, increasingly relevant with remote work being the new normal," he says, adding, "Organisations across sectors, be it manufacturing, IT or retail, are equipping their workforce with soft and technical skills to navigate volatility and drive innovation."
The top five programmes being taken up the most from India on Cou­r­sera inc­lude Pro­g­ramm­ing for Everybody (Get­ting Started with Python), Mac­h­ine Learn­ing, English for Car­eer Dev­e­lop­ment, Python Data Stru­c­t­ures, and AI For Everyone.
Among the many companies that are increasing their technology focus is Hindustan Unilever (HUL). During its recently concluded annual general meeting (AGM), Sanjiv Mehta, chairman and managing director, said:
"The HUL of the future will be a web of intelligent ecosystems — the consumer ecosystem, customer ecosystem, operations ecosystem with data, technology, and analytics at the heart of it.
"Our core business will become smarter and efficient by becoming data-led and machine-augmented, while we create customised platforms and ecosystems for differentiated consumer and customer values."
Technology, Mehta said, was going to be the game changer, shaping societies as well as businesses.
Over 500,000 stores in India were using Shikhar — HUL's eB2B app — which had helped the company receive orders even when the salesmen could not reach the outlets during lockdowns.
Having in-house teams to manage such scale will require capabilities to be ramped up.
The impact of this demand is also evident on salaries.
Pawan Goyal, chief business of­f­icer, Naukri.com, says, "The value of tech profess­ionals has inc­re­ased in non-IT sec­tors.
"The number of jobs for higher salary buckets such as Rs 20-30 lakh per annum (LPA) has gone up by 3.3x; and Rs 30-40 LPA band has increased significantly by 5.6x in March-May'21 vs March-May'19.
"On the other end of the salary spectrum, hiring for tech roles with the salary bands of Rs 5-10 and Rs 10-20 LPA has grown by 1.7x."