The Thar. A vehicle that has always been a capable off-roader with its go-anywhere attitude.
One which hated being on the tarmac as a lifestyle vehicle, as the second car in your parking space.
But this new generation Thar -- can it change that? Can it be one's first car? Rajesh Karkera/Rediff.com finds out.
The 2nd generation Mahindra Thar, the offroading beast, is surely all that it said it was... But can it be more?
We know all the exteriors and interiors of the New Mahindra Thar, how it boldly goes where no other car has been before.
But let us see how it drives in the urban jungle. Can it be a city vehicle as well as your first car?
The Thar is certainly a capable vehicle, There never was a doubt about that but the new one is just the right mix of a brute with comforts inside to keep it real.
We were blown by the responsive infotainment screen which didn't give any problems even after it was splattered with droplets of rainwater and the wash afterwards.
Video: The touchscreen infotainment of the Thar displays a host of information along with off-road statistics and tyre pressure of the vehicle.
The best part of the Thar is that even though it comes with modern amenities like a very responsive touchscreen that displays off-road dynamics as well as vehicle information, a practical MID panel, air-conditioner, power windows, central locking and more... It is still YOU who is driving the car. It's all you, the person behind the wheel!
And this petrol variant of the Mahindra Thar is a sure one for a city like Mumbai...
It finally feels closer to complete for a small family which loves adventure drives as well.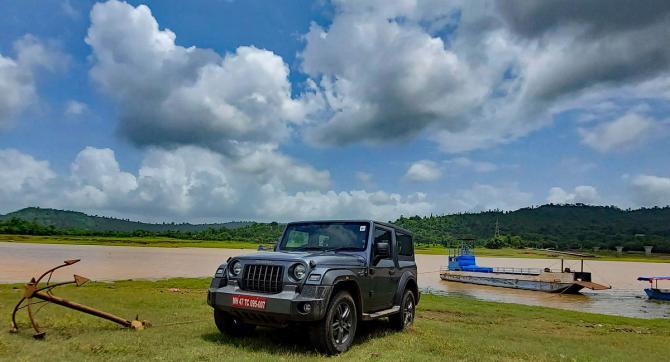 The price of the Thar, which has gone up twice in the 10 months since its launch, is now between ₹12.79 Lakh and ₹15.09 Lakh ex-showroom, and on-road in Mumbai it goes up to ₹15.37 lakh to ₹18.42 Lakh for the top variant.
Well, actually there's not really a top or a base variant in the Thar like with other cars. The amenities are the same in all the variants. But what differs is the transmission, automatic or manual, and whether one prefers a hard top or a soft top convertible, and diesel or petrol engine. In all, there are some 10 options for you to choose from.
Coming up: The Mahindra Thar Diesel --how does it drive and a proper off-road video of the Thar.