These companies support with isolation centres, medical & financial help, and friendly leave policies.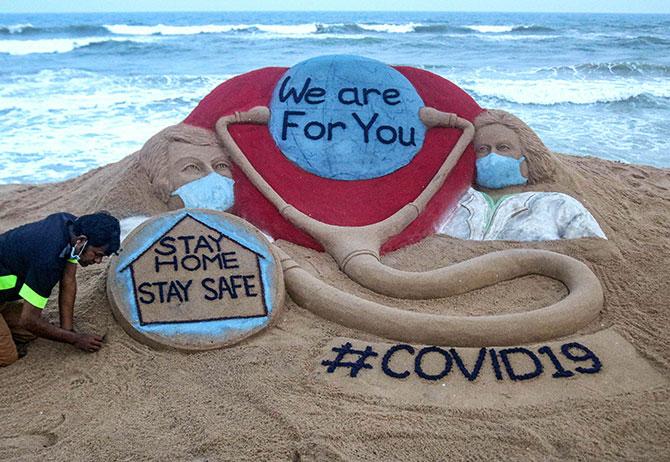 From helping their employees infected with the Covid-19 virus to vaccinating them or supporting the families of those who might have succumbed to the infection, several companies in India are trying to do their bit in this difficult time.
Some have even widened their support net to include all stakeholders as well as an extended community.
To the families of the em­p­loyees it lost to Covid-19, Noida-headquartered IT services and consulting company HCL Tec­h­nologies is, for instance, paying salary for a year, medical insurance for three years and extending support for their children's education for five years.
"More importantly, if the spouse is willing to work, then we are training them and trying to make them part of the HCL family," says Apparao V V, chief human resources officer, HCL Technologies.
Real estate developer K Raheja Corp has, meanwhile, set up a 24x7 centralised Covid war room that is run by its employees to assist colleagues as well as non-employees with emergency services, such as arranging for doctors, oxygen or hospital admission.
In case of an adverse event, it is giving the employee's family one year's salary (CTC, or cost to company) as a lump sum amount.
It has also scaled up the medical cover and introduced a "benevolent scheme" for those in need of financial assistance and adv­ance salary to meet exigencies.
Given the demand for oxygen concentrators and ventilators, Mumbai-headquartered consumer goods company Hindustan Unilever (HUL) has taken it upon itself to procure them.
HUL chairman and managing director Sanjiv Mehta says in the last few weeks, the company has sourced 45 ventilators and oxygen concentrators each.
These will be given to hospitals facing a shortage.
"We've been able to source 2,400 oxygen concentrators from across the world, which we are bringing to India," Mehta says.
HUL now has 60 full-time doctors — 40 per cent more than in pre-Covid days.
It also has 44 fully-equipped ambulances and has set up 30 isolation centres across India with the help of civic administrations and hospitals.
And it has put in place something called the "nightingale system", which functions through an app and through which employees are connected with doctors for tele-consultation and medicine.
Those critically ill are shifted to hospital.
"Besides our 22,000-odd employees and their families, we will pay for the vaccinat­ion of all our distributors, sa­­­­l­esmen, loaders, unloaders, and Shakti Ammas (some 300,000 women entre­preneurs from rural India)," Mehta says, adding that already over 90 per cent of the workforce eligible for vaccination has been inoculated.
Rival Procter & Gamble India, meanwhile, has pledged Rs 50 crore towards the vaccination of over 500,000 Indians against Covid-19, besides its 5,000-plus employees and their immediate family, says P&G Indian Subcontinent CEO Madhusudan Gopalan.
Food and beverage enterprise PepsiCo India, too, has rolled out a vaccination drive for its employees and has tied up with leading healthcare pro­viders to ensure emergency services.
Addition­ally, in partners­hip with Delhi-based non-profit Sustainable Environment and Ecological Development Society (SEEDS), PepsiCo Foundation is reaching out to vulnerable communities, especially in five states (Mahara­shtra, Punjab, West Bengal, Uttar Pradesh and Telangana).
The plan is to provide 100,000-plus vaccine doses; set up five Covid-care centres; and procure over 100 oxygen concentrators for the on-ground requirements of these state governments.
Tech Mahindra, the IT services arm of automobile manufacturing company Mahindra & Mahindra, is already making use of its centres as medical care facilities.
Tech Mahindra has tied up with Fortis Healthcare and converted its Noida centre (Noida Special Economic Zone) into a 40-bed Covid-care facility.
India's largest IT services player, Tata Consultancy Ser­vi­ces (TCS) has set up Covid-care centres with oxygen concentrators across 11 cities (three more cities are being added) with nurses and doctors round the clock and where treatment is free of cost.
Besides this, Covid testing and vaccination camps are being held at its offices.
Likewise, IT major Infosys has set up employee Covid-care centres in Pune and Bengaluru in collaboration with hospitals.
Besides opening vaccination centres at some of its campuses across India, Infosys has also collaborated with over 130 hospitals for vaccinating its employees and their families.
There are also tie-ups with Covid testing labs and emergency ambulance providers in major cities.
Coming back to HCL Tech­no­logies, it is segmenting emp­l­oyees who are falling ill into three categories: mild infection, medium infection and critical infection.
For those with mild infection who need to isolate themselves, the company has opened up its campuses and set up isolation centres.
During the first wave, it had set up 150 beds and collaborated with Apollo Hospitals for access to doctors and nurses.
This time, it has 250 beds across its centres in Noida, Bengaluru, Madurai and Lucknow.
"For people who live in one- or two-bedroom homes, it becomes difficult to isolate.
"These centres will cater them and we will take care of everything," says Apparao.
For those with medium infection, the company has been procuring oxygen concentrators.
"In the past two-three weeks, we have procured 250 oxygen concentrators and are dispatching them for employees if they have a doctor's prescription," Apparao adds.
And, for employees needing an ICU bed, it has partne­red with hospitals in the Nat­ional Capital Region, Chennai, Bengaluru and Hyde­r­abad.
"We are helping either through funds or by procuring infrastructure," says Apparao.
"We realised that our hospitals have limited resources and capacity.
"So we joined hands with those hospitals that were half-way ready to speed up things."
Meanwhile, e-commerce company Flipkart has decided to bear the entire premium of Covid insurance extended to all sellers, which would cover their hospitalisation and consultation between Rs 50,000 and Rs 3 lakh.
It is also extending various kinds of support to its MSME (micro, small and medium enterprises), seller, artisan, weaver and handicraft partners.
Besides their physical and financial health, the employees' emotional and mental wellbeing is also of concern for companies.
So, K Raheja Corp has launched what it calls "Reach Out" wherein the staff and their family have access to professional counselling.
It has also tweaked its leave policy to include three extra days for "self- care" and unlimited paid leave for critical illness or treatment.
And Godrej Properties, which is part of Godrej Group, has introduced "Taking a Pause to Heal".
For three days over this weekend, starting May 5, its entire staff took a complete break from everything work related.
These included the 2,000-odd permanent employees and some 600 contractual employees across locations.
Says Mohit Malhotra, CEO and MD, Godrej Proper­ties, "We gave a heads-up to our customers so that the sales and customer-­ teams could also take a break."
Photograph: PTI Photo