'We look forward to providing great customer experiences in India.'
Peerzada Abrar reports.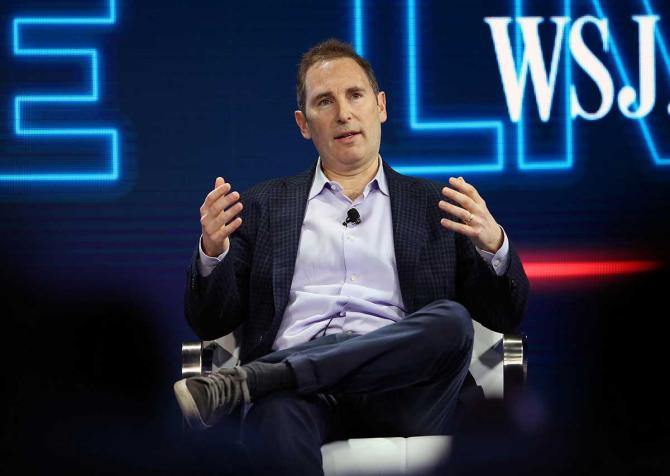 Amazon.in was set up in India seven years ago, but the US-based company established its first centre 18 years ago in India in 2003 and incidentally it was focused on its technology arm Amazon Web Services.
Amazon Web Services chief Andy Jassy travelled to India in 2004 and celebrated Holi with the early small team here.
Jassy is now replacing billionaire founder Jeff Bezos as Amazon.com's next CEO.
"That was a great day. It was around 2004 and during Holi celebrations. We had a missionary group of people in Bangalore, from the very start," remembers Jassy, 53.
Amit Agarwal, global senior vice president and country head, Amazon India, played a key role in setting up the AWS centre.
Jassy also finds it remarkable that in just 7 years since the launch of Amazon India, the firm has digitised 2.5 million MSMEs, enabled cumulative exports worth $3 billion and helped create nearly one million jobs in India till date.
"There is so much to do (in India). We have made a pledge to do more," says Jassy during a recent fireside chat at the Amazon Smbhav event with Amit Agarwal.
"It's very early days, with respect to what we are hoping to enable for customers in India. We are incredibly excited about what has happened and are appreciative of the partnerships across all the various types of the customers," says Jassy.
"We look forward to partnering over a long period of time in providing great customer experiences in India."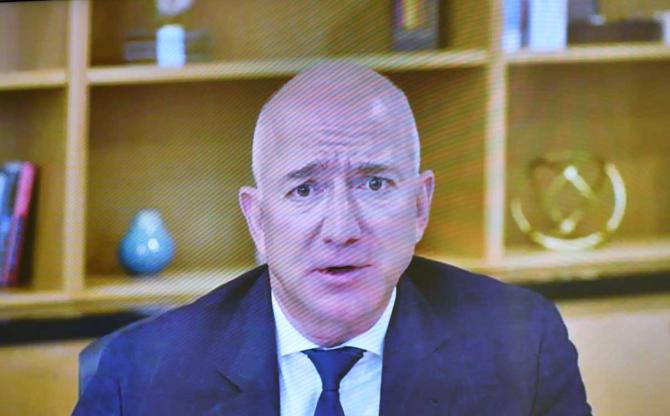 Jassy had joined the e-commerce giant 24 years fresh out of graduate school.
"It has been a crazy adventure, and I feel very lucky to have been part of it," Jassy said at the Amazon Smbhav event.
An alumnus of Harvard University, Jassy was from the East Coast and his fiance, who is now his wife, was from the West Coast in the US.
He had agreed to move to the West Coast for three years, as long as she agreed that they would go back to New York, where he grew up.
"We actually signed an agreement on a napkin in a bar when we were making the decision. Of course, 24 years later, I've been told that the statute of limitations on that napkin has expired."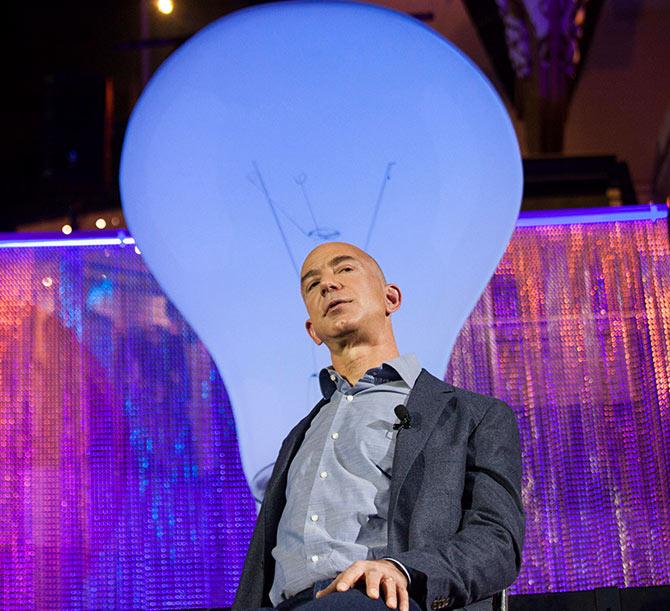 After taking his final exam in May 1997, Jassy joined Amazon as part of the 8 people marketing group. Here all the roles were too big for them.
In the beginning, he was told to lead competitive intelligence and customer retention for the e-commerce firm.
"I didn't know what I was going to do, or what team I was going to be on," says Jassy.
He was later asked to work on a project where the company explored other product categories Amazon should consider getting into besides books.
He looked at areas such as music, videos and software. It made more sense that time to build those categories instead of buying them.
Jassy then went back to build customer relationships and marketing team and also led the product management, music business and marketing.
After that, an unusual role came to Jassy, which was "shadowing" Amazon founder Jeff Bezos.
"That was an incredibly interesting experience where we spent all of our time together (with Bezos) and debriefed every few days on how to divide and conquer and the things to follow up on. For him (Bezos), it was a way to extend his bandwidth," says Jassy.
Jassy left the 'shadow job' in the fall of 2003 to explore whether there might be a business of building a set of infrastructure services. This could comprise a technology infrastructure platform where developers and companies could build their applications.
Later that business became the cloud computing business Amazon Web Ser.
"I did not envision it. When I thought about coming to Amazon, I really was attracted to Amazon because it was very customer-oriented," says Jassy.
"I feel lucky I got to be part of it all this time and it's still pretty early days for us."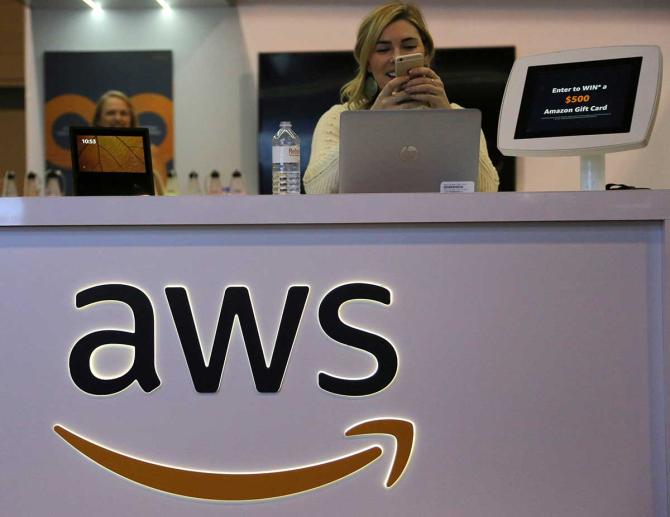 The idea about AWS was not a single 'Aha moment'. Amazon had a business called Merchant.com, where it provided e-commerce technology to third party merchants.
It was a technology on the Web sites of retailers such as Target, and Marks and Spencer.
Amazon had to decouple various technology services that had become jumbled together and provide the capabilities through application programming interfaces or APIs. That was a big shift inside the company around the year 2000 and changed its views about software.
The other reason behind setting up AWS was the firm was taking a lot longer to deliver software projects, despite adding software engineers.
"I was working for Jeff (Bezos) at that time as his shadow and he was very frustrated by this fact," says Jassy.
"We realised internally that all of the teams were reinventing the wheel. They were all building these infrastructure services that didn't scale beyond our services."
The firm later realised that it is really good at building infrastructure services deepened stacks and platforms such as compute, storage, database, analytics and machine learning.
It had to become good at building and running reliable and cost-effective scale data centres as the retail business was a low margin business.
In 2003, none of the key proponents of the Internet operating system had been built.
Amazon had always thought of itself as a technology company and decided to build the key components of that internet operating system.
"I left that 'shadow job' to go work with a group of people to explore how to build a set of services that allowed any developer to build any application they could imagine on top of our infrastructure services," says Jassy about starting work on AWS in 2003.
Now the pandemic has also accelerated the adoption of cloud computing technology by small and medium businesses as well as large enterprises.
Cloud is having a substantial impact on new firms and existing companies to reinvent themselves.
Jassy says one of the key reasons for the adoption of the cloud is saving costs which includes the investments in setting up data centres and paying only for the services that the companies consume.
Also, another important reason is that it allows firms to innovate at a much rapid rate.
"Agility and speed of innovation is the number one reason."
Jassy said some of the most successful startups built their businesses from scratch on top of AWS. These include companies such as Pinterest, Airbnb, Stripe, Slack and Instagram. These also include top Indian startups such as Dream11, Paytm and Swiggy.
For the past 8 years, large enterprises and governments have also started using the cloud in a big way and they are reinventing not just their organisations but also what is possible.
"If you look at what Moderna did for building their COVID-19 vaccine, they built a digital manufacturing suite on top of AWS using compute, storage, machine learning and data warehousing," says Jassy.
"They built their COVID-19 vaccine candidate in 42 days when it normally takes some 20 months. Those are big differences in terms of what you could get done."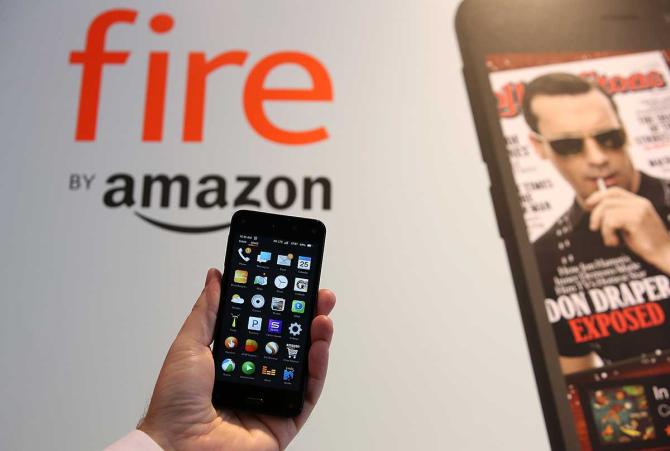 Jassy also shared insights about mechanisms he relies on as a leader. This includes having great teams as one can't be doing everything. But it is hard to have the right team, especially when the company goes through different evolutions of growth.
The right team needs to allow the business to scale and the speed that one needs. Also one needs to build a set of mechanisms that allows the business to be able to see the things that matter most and understand what is working and what is not working.
"It's the inputs that drive the output. So we spend most of our time focused on what are the inputs that matter most for the business," says Jassy.
"We spent very little time on the actual revenue numbers."
Some of the issues that get discussed during leadership meetings are inputs related to customer experience and ways to solve them.
For businesses to scale up, it is important for the leadership teams to have the passion and will to keep inventing.
Hiring the right people that fit what organisations are trying to do is also important.
"It really starts with having the will to hire builders and then organizing them as best as you can into separable or autonomous teams where they own their own destiny," says Jassy.
If the companies have a penchant to invent, they have to also accept that they are going to fail sometimes. For instance, Amazon's Fire phone experiment didn't work. Despite consumers not reacting to the value proposition, the project was culturally reaffirming for Jassy.
"The inputs for the phone were really good. We took that technology and used it in other initiatives," says Jassy.
"We took the people that did a really good job on inputs and helped them land into other important gigs."
Feature Presentation: Ashish Narsale/Rediff.com