As fear grips the world, demand for protective gear used by health care professionals and citizens is on a rise. And, supply disruption from China has opened a window of opportunities for Indian medical device makers.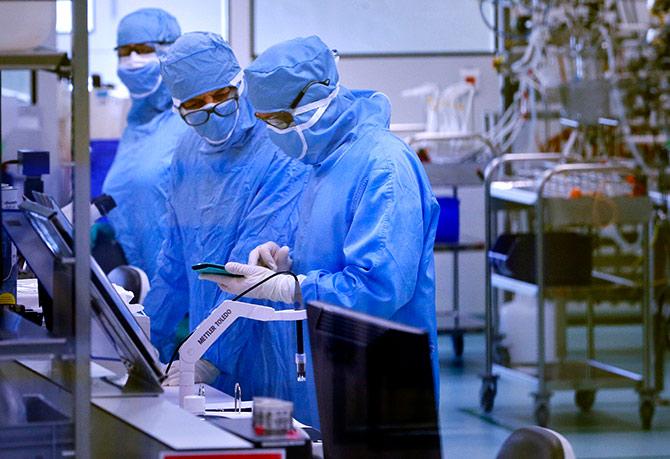 Sumit Marwa, owner of Bengaluru-based Dispoline India, makers of single-use items used in the health care sector (especially hospitals), has seen a 15-fold surge in enquiries for masks.
His sales have soared by four to five times.
As fear grips the world, demand for protective gear used by health care professionals and citizens is on a rise.
And, supply disruption from China has opened a window of opportunities for Indian medical device makers.
Marwa gets masks made on contract and he think the total market for masks in this country runs into billions of units.
At present, there is specific demand for what he called anti-viral or N-95 masks.
The common surgical or pollution masks only offer protection from certain bacteria.
The ex-factory price of the routine masks are often as low as a rupee, Marwa said.
As for the N-95 ones, even Chinese provinces are enquiring for sourcing from India.
So, their prices have soared from Rs 20-25 apiece earlier to around Rs 40.
"Traders are procuring the masks from manufacturers and are mostly shipping out of the country - there is demand from entire Southeast Asia.
"Prices in the domestic market have spiked as a result.
"The government, too, is procuring in large quantities for health care professionals as they create isolation centers in government hospitals," said one Mumbai-based surgical devices maker.
He said that this is a short-term opportunity.
Once supplies stabilise from China, these export orders are likely to end.
Rajiv Nath, forum coordinator of the Association of Indian Manufacturers of Medical Devices, an umbrella body for this industry, said demand from China for such protective medical gear and consumables comes in the wake of a shutdown in several of their provinces as the virus spreads.
India imports around 80 per cent of its medical devices from America, parts of Europe and China.
China's share is about a tenth, mostly of low-end ones like surgical consumables, instruments, some electronic devices like ECG machines.
Nath said these have some market share in India, being 15-30 per cent cheaper than the local produce.
His own company, Hindustan Syringes and Medical Devices, of Dispovan fame, has lost market share in the India market from an earlier 80 per cent to a current 50 per cent, for cheaper import.
The China lockdown could, however, impact medicine supplies but after a lag.
India is dependent on China for import of the raw material for active pharmaceutical ingredients (APIs) and intermediates to make drugs.
About two-third of the country's API requirement is from China, around $2.4 billion worth of import in 2018-19.
The dependence is as high as 90 per cent for some fermentation-based APIs.
These are used to make common antibiotics like penicillin.
Daara Patel, secretary-general of the Indian Drug Manufacturers' Association (IDMA), says companies mostly maintain a two-month buffer stock of APIs.
And, there would be at least 30 days inventory in circulation.
"So, for the next 90 days, we do not see any emergency situation of drug shortage.
"However, if the lockdown continues in China, there could be some impact on supplies in the domestic market," he said.
IDMA is already talking to bulk drug makers in the country and many of the units not at full capacity could now step up production.
However, units which do not make specific antibiotic APIs might find it difficult to suddenly switch production.
Also, stringent pollution norms regulate the bulk drug industry here.
It is learnt the central government has called a meeting of industry stakeholders on Friday.
IDMA plans to meet officials next week with a proposal from the industry on how to manage.
"Indian players can make the APIs we now import from China.
"They do not do so now as Chinese import is cheaper.
"Once there is a market for these APIs, there is no issue in stepping up production.
"The government should support us during this time by relaxing the environment norms (like seeking a separate no-objection certificate from the state pollution authority), as long as the effluent load remains unaltered," said a Hyderabad-based API player.
APIs for common antibiotics, vitamins, fever drugs (paracetamol) and diabetes (metformin) are among those procured from China.
Photograph: Robert Pratta/Reuters