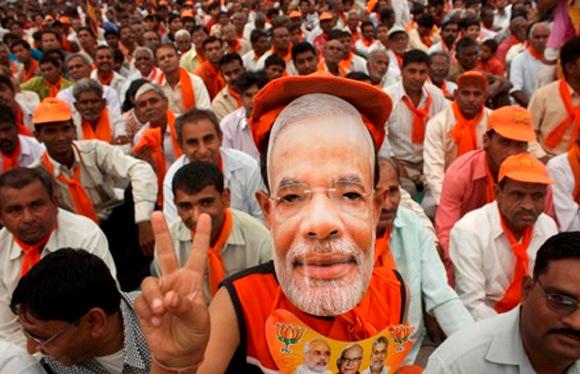 With GDP growth improving to a nine-quarter high of 5.7 per cent and the stock market brimming with optimism, it is time for Modi to keep his promises.
Narendra Modi has many promises to keep. India's new prime minister spent his first 100 days in office greasing the creaky wheels of bureaucracy.

But with the economy getting back on track and a $34 billion investment commitment from Japan in the bag, he must now start delivering on big-ticket reforms.
His tasks break down into four categories: product markets; labour markets; finance and banking; and resources and infrastructure. All four areas deserve attention.
The biggest product-market reform is the early introduction of a federal sales tax, which will help remove many layers of local levies that inflate the final prices of goods and services.

Similarly, freeing India's farmers from outdated state controls will create a nationwide market for food, and boost efficiency in agriculture. Opening up e-commerce to foreign investors should improve retail productivity.
Labour market reforms could be equally beneficial. Updating the laws that inhibit employment will allow more of the country's 435 million workers to move into formal occupations, boosting urbanisation.

The introduction of universal healthcare, estimated to cost the government about 4 per cent of GDP, will remove a major source of poverty. Healthcare is an obvious extension of the popular programme under which Modi has promised insurance to 75 million households if they open bank accounts by January.

Financial inclusion is important for social security. But to efficiently allocate credit in the economy, India's 26 state-run banks need to be merged into fewer, stronger and more professionally-managed lenders. A more efficient corporate bond market would also help.
Credit is not the only roadblock, though. The Indian Supreme Court has found the practice of awarding coal mines to power and steel companies to be illegal. That underscores the urgent need for a robust legal framework for giving investors access to land and mineral resources in a timely and fair manner.
Phasing out the culture of energy subsidies - especially free power to farmers - is also critical.

The reform agenda is daunting. But with GDP growth improving to a nine-quarter high of 5.7 per cent and the stock market brimming with optimism, now is the time for Modi to keep his promises.