Networking giant Cisco's chief John Chambers met Commerce and Industry Minister Anand Sharma on Wednesday and discussed the blue-print of information technology set up for the Delhi-Mumbai Industrial Corridor project.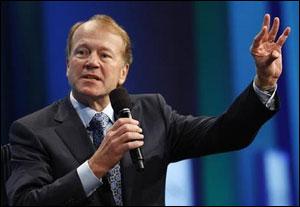 The company is preparing Information and Communications Technology (ICT) master plan for four smart cities proposed under the DMIC project.
Cisco is preparing plans for Shendra Industrial Park in Maharashtra, Dholera Special Investment Region in Gujarat, Manesar Bawal Investment Region in Haryana and Khushkhera Bhiwadi Neemrana Investment Region in Rajasthan.
"Chambers discussed about the DMIC project," an official said.
The government has proposed smart cities with modern infrastructure under the DMIC project. These cities would have self-sustainable habitats with minimal pollution levels, maximum recycling, optimised energy supplies and efficient public transportation.
Japan is giving financial and technical aid for the $90-billion project, which will cover seven states totalling 1,483 km.
DMIC is aimed at creating mega industrial infrastructure along the Delhi-Mumbai Rail Freight Corridor, which is under implementation.
Seven National Manufacturing and Investment Zones (NMIZs) have been notified along the DMIC.
Japan has committed to invest $4.5 billion in this project. The Union Cabinet had approved an expenditure of Rs 18,500 crore (Rs 185 billion) on development of infrastructure for the project.
Besides Cisco, IBM and Accentrure are working with DMIC. The IT companies aim to dovetail the physical master plan with ICT master plan so that over a period of time the real time control and governance of the city can be done by sitting in command/control centre.