An insider said that over the past decade or so Cipla has become immune to the exits of leaders. There have been no directional change in the long-term strategies.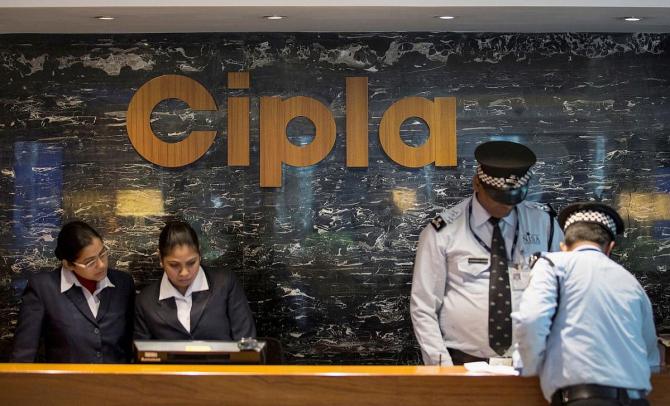 This is a pandemic-hit year, but Mumbai-headquartered Cipla is on a roll - its stock has been on a bull run after the company posted stellar first-quarter results.
Its India business clocked a 16 per cent growth led by a 46 per cent jump in its trade generics business, while the US business grew 14 per cent, riding on higher sales of respiratory drug albuterol.
Will this be sustainable going forward?
That's the question that needs asking as three key executives have recently exited the firm: Nikhil Chopra, CEO for India business, Kunal Khanna, cluster head of chronic and emerging business development, and Nikhil Lalwani, CEO of Cipla's US business, who was recently moved to the firm's India prescription business.
Collectively, that would look like a decisive vote of no-confidence, though Cipla says the exits were in no way triggered by the current global business environment.
The issue is the loss of institutional knowledge and capabilities that exit with these executives.
Lalwani, for example, had spent over eight years at the company spanning roles such as head of strategy and merger and acquisitions (M&A) for Cipla US and Cipla's global respiratory business before becoming CEO of its US subsidiary InvaGen and finally going on to head its North America business.
Khanna, who was heading the India prescription business, had come from IMS Health, a market intelligence firm.
And Chopra had spent close to 24 years with the company and grown within the organisation.
Speaking to Business Standard, Cipla's Global chief financial officer Kedar Upadhye said the company's practice of fostering organic growth will stand it in good stead.
"We have already announced the next level of changes at Cipla," he said, referring to internal promotions.
"The new cluster heads have taken over and now they have a chance to build their careers here.
"We have tweaked the structure and helped people grow faster.
"This is the beauty of the organisation where a second rung of leadership is available to take over immediately."
Upadhye explained that Lalwani wanted to stay in the US (sources say he may be joining ANI Pharmaceuticals, a Nasdaq-listed firm).
His replacement, Arunesh Verma, was announced around December. Verma, who has worked with Torrent Pharma and Sandoz, has been leading the North America business for the past eight months.
"The old leader giving the baton to the new has been a very smooth process," according to Upadhye.
Meanwhile, he said, a new India head is slated for announcement soon.
Do these changes augur well for the future business growth plans? Analysts think so.
A Mumbai-based analyst who tracks the company closely said Cipla has implemented restructuring and leadership changes many times in the past, and every time there has been a significant change in strategy.
"While one senior manager would focus on expanding, adding new plants and new countries for export, his successor would focus on consolidation and rationalisation of the businesses.
"With the current rejig, too, we can expect some strategic changes, but as Umang Vohra, MD and global CEO, remains at the top (he is an old timer) not much fundamental change is anticipated," the analyst said.
The biggest change perhaps occurred in 2016, three years after Y K Hamied (his father founded Cipla) hung up his boots, when the drug-maker saw the elevation of the next generation of the promoter family.
Besides appointing its new MD and Global CEO (Vohra), Cipla announced Samina Vaziralli as its executive vice chairman.
She is Y K Hamied's niece, daughter of M K Hamied, his brother.
M K Hamied's appointment as executive vice chairman in July 2013 roughly coincided with the company's new global CEO Subhanu Saxena taking charge in February.
The corporate grapevine says it was Y K Hamied who made a call to pursue Saxena, who was then with Novartis in Switzerland.
Till then, Cipla was largely an India-focussed company.
But Saxena went into overdrive to shape Cipla's international business, and expand its footprint globally through acquisitions, and strategic investments in key markets such as South Africa and Europe.
Saxena exited in 2016, citing personal commitments.
He is now with the Bill and Melinda Gates Foundation.
Vohra, then the chief financial officer and strategy officer, was appointed MD and global CEO.
He went about restructuring the business, cutting the flab, rationalising the workforce and improving Cipla's productivity.
Under his strategic leadership, Cipla exited some of its non-core, low-profit ventures like its animal health business, rationalised its product portfolios, and also cut back investments on biologics.
Cipla has also rationalised its international presence - it is present in 80 countries now compared to over 130 countries a few years back.
Upadhye said Cipla has emerged as a great "catchment area" for talent.
"About five years ago, it was Dr Reddy's Laboratories (DRL), and now many executives from DRL and Cipla have become chief financial officers and chief human resource officers," he said.
Both Upadhye and Vohra are former DRL senior executives.
An insider said that over the past decade or so Cipla has become immune to the exits of leaders.
"There have been no directional change in the long-term strategies.
"It's like taking a step forward and may be a step backward, at times.
"This is normal business process. But, I do not see any major change in overall strategy and we will continue to implement our plans," he said.
He added that change at the top has been seamless and helped business grow.
In fact, it was Vohra who signed the licensing deal with US's Gilead for Remdesivir, an injectable drug that is now being used to treat Covid-19, which has added the bloom to Cipla's bottom line.
Photograph: Danish Siddiqui/Reuters