The stake of foreign institutional investors (FIIs) in 18 of the Nifty-50 companies has touched historic highs, according to the latest quarterly shareholding information filed by these companies.
This is as compared to a total of six companies where the stake was at a record high in the year-ago period. Besides, their stake in seven other companies was nearing record highs in the March quarter, the data suggest.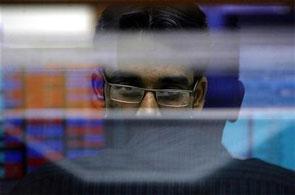 Their holdings in six companies - HDFC Bank, Lupin, Mahindra and Mahindra (M&M), NTPC, Axis Bank and DLF - rose between one and six percentage points during the quarter. In the private sector Axis Bank, state-owned power company NTPC and real estate major DLF, FIIs raised their holding by subscribing to shares via private placements and offer-for-sale and used the open market purchase route to raise stake in HDFC Bank, Lupin and M&M.
"FIIs now prefer to invest in index-based companies. They realise that the overall depth of the market is shallow, and it is better to be selective. We have also seen that there is smart money or short-term money that gets invested into Nifty and Nifty option index-based stocks," suggests Ashu Madan, chief operating officer, Religare Securities.
Record flows

A record net inflow in Indian equities in the financial year ending March 2013 helped foreign investors widen their grip on Indian equity. FIIs pumped in more money in FY13 than in any year since they were permitted to invest in these 21 years ago. They were net buyers by $25.8 billion or Rs 1.4 lakh crore during the financial year, according to data from the stock market regulator, the Securities and Exchange Board of India (Sebi).
"Election year discounted, I think we would probably see at least the same amount of flows in 2013 as in 2012," said Deven Choksey, managing director, K R Choksey Securities.
In the 448 stocks for which latest data are available among the companies that comprise the CNX 500, FIIs were the single largest shareholder in 166 companies, in the non-promoter categories. These 166 companies account for 58 per cent of the total market capitalisation of the Bombay Stock Exchange.
"FIIs invested in emerging markets like India, where GDP was still growing at a significantly higher rate compared to developed markets like Europe and the US," says Sudip Bandyopadhyay, managing director of Destimoney Securities.
Says G Chokkalingam, executive director and chief investment officer, Centrum Wealth Management: "Attractive valuation of the overall markets, far more attractiveness of individual stocks and possible upgrades to both GDP growth and corporate earnings, consequent to further reversal of the interest rate cycle, will ensure there is no serious run-down in the investments of FIIs in the country."
Of these 448 stocks, in as many as 105, the FII stake was more than 20 per cent at the end of the March quarter. In 131 companies, their holdings are between 10 per cent and 20 per cent; in 69 stocks, in the range of five per cent to 10 per cent.
Allocation

In sectoral classification, FIIs bought heavily in banking, fast-moving consumer goods (FMCG), pharmaceuticals, consumer durables, information technology (IT), entertainment, power generation and refinery stocks.
Ipca Laboratories, Cipla, Wockhardt, Biocon and GlaxoSmithKline Pharmaceuticals from pharma; HDFC, Dena Bank and Kotak Mahindra Bank from financials; and HCL Technologies, Tech Mahindra and MphasiS from the IT sector have seen a rise of more than four percentage points each in FII stake in FY13.
"If FII inflow continues, the money will flow into these select stocks only. Select FMCG and pharma stocks still look positive. Given the uncertain times, defensive bets do look promising. The banking pack also looks promising, led by private banks. In terms of specific stocks, they can increase their holding in the ones that already form a part of their portfolio," adds Madan of Religare Securities.
On the other hand, Choksey suggests that in the current year, FIIs' attention would get invited in select capital goods and infrastructure related stocks. "In terms of stocks, BHEL, Bharat Forge, Thermax, ONGC, RIL and Crompton Greaves should get attention. I don't expect FMCG and the IT sector to corner a large chunk of investment," he says.