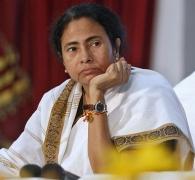 West Bengal Chief Minister Mamata Banerjee on Friday vowed that she will not rest till money is repaid to the thousands defrauded allegedly by the Saradha Group and said that a new law was being introduced to protect the interests of investors.
"I am happy that a new law is coming. However, I will not be happy till we are able to return the money to investors," Banerjee said, adding that many poor people had invested in the Saradha Group.
Referring to the new Bill that provided for seizure and attachment of properties of scamsters, she said, "Panic should not be created. I have always been with the common people and will always remain with them."
Continuing to blame the Centre and the previous Left Front government for the situation created by the scam, Banerjee said "A storm has come because of the deeds of the earlier (Left Front) government and casual approach of the Centre.
"The Securities and Exchange Board of India and Reserve Bank of India also did not do their duties. They are talking big," she said.
Referring to the other chit fund scams during the Left Front regime, including Sanchaita and Verona, she said, "If there were proper laws then the people would not have been cheated."
She also referred to the Shyamal Sen Commission set up by the state government to go into the functioning of chit fund companies.
"Investors in Saradha Group as well as in other such companies will now be able to register their complaints with the Commission with specific documents and help it to ascertain the amount of fraud and number of people cheated," Banerjee said.
She claimed that had her government not been there, many more people would have been in financially ruined.
Without naming the Communist Party of India - Marxist, which has demanded a probe by the Central Bureau of Investigation in the scam, Banerjee said, "Some are creating panic and politicising the issue purposefully. Do not do politics. You (Left Front government) created a mess and I have to clean it up."
She said that Governor M K Narayanan has approved the new bill which would be placed in the House on April 30 for consideration and passing.