As infrastructure, power hardly deal in cash, its paucity has failed to affect their receivables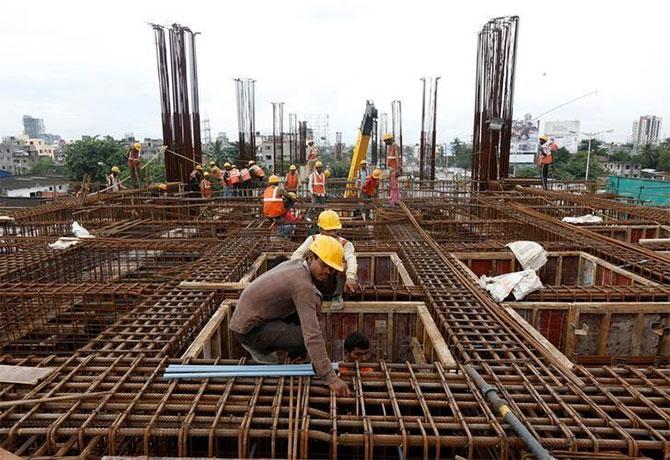 Infrastructure and power, core sectors considered proxies of economic growth, have remained relatively free from the effects - good or bad - of demonetisation, as can been seen in their financial performances.
On November 8, Prime Minister Narendra Modi had announced the withdrawal of old Rs 500 and Rs 1,000 notes, sucking out cash from the economy and affecting sectors heavily dependent on it.
Core sectors, however, hardly deal in cash, and its paucity in the economy failed to affect their receivables.
"The utilities have lot of money, but since none of them pay us in cash, the receivables continue to remain at the same level. There's not a significant improvement," Sanjay Sagar, joint managing director and chief executive officer, JSW Energy, told analysts in an investor call, discussing the company's October-December quarter results.
Several other sector experts and analysts agreed. "The utilities received a lot of cash; some of them also accepted advance bill payments. However, not much has changed for the power or other infrastructure companies," said an analyst from a domestic brokerage firm who did not wish to be named.
The demonetisation impact on the road sector was similar.
"For EPC (engineering, procurement, and construction) road developers, there has not been an impact. The impact on toll roads is largely limited to the 23-day period, for which they will get compensated. There was a slight fall in traffic in December, more so in trucks, but not as significant as expected," said an infrastructure analyst who did not wish to be named.
Deepak Purswani and Vaibhav Shah, analysts with ICICI Securities, in their report on IRB Infrastructure, wrote, "Traffic in the western region was not much impacted post demonetisation. However, the northern region was impacted and witnessed traffic de-growth in the range of 10-13 per cent, as several factories in the Firozpur region [in Punjab] in the north were shut down, impacting traffic."
The report also said, "IRB has claimed Rs 151.7 crore from the National Highways Authority of India and state agencies for the loss of toll for 23 days because of demonetisation and booked the claim in toll revenues."
Lalit Jalan, chief executive officer, Reliance Infrastructure, said there was no significant impact of demonetisation on its metro, roads and power businesses. "Growth numbers came down for the road sector, but there was still growth," Jalan said.
In a report on February 9, rating agency India Ratings said, "The impact of demonetisation on the credit profile of large corporates (with annual revenue over Rs 2.5 billion) is neutral, with no major rating changes envisaged because of aftereffects.
Based on a sensitivity analysis of all corporates in our portfolio India Ratings believes large corporates have sufficient liquidity buffers to meet debt servicing obligations."
The note added the construction sector saw a marginal impact on revenue during the cash shortage, with eventual recovery.
However, some companies in related sectors, such as engineering, have seen a negative impact because of demonetisation.
"Revenue declined 20 per cent year-on-year to Rs 970 crore (Rs 9.7 billion), led by a muted order book and impact of demonetisation. The company continues to report a decline in revenues (20 per cent year-on-year for Q3FY17) on the back of a muted order book.
The December quarter also saw the impact of demonetisation, in the absence of which revenues would have been higher by 4-5 per cent," said Pawan Parakh and Ashutosh Mehta, analysts with HDFC Securities.
"Toll roads will see an impact on the cash flow, but other sectors don't serve retail users, and are not dependent on cash payments. I expect some impact for construction companies, with project execution delays," said Manish Agarwal, partner and head, corporate finance - infrastructure and government services, and head, energy and natural resources, KPMG India.
Photograph: Rupak De Choudhuri/Reuters