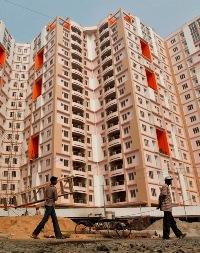 A first information report IR has been registered against a developer who allegedly duped a construction company to the tune of Rs 3.2 crore (Rs 32 million) by fraudulent transfer of development right of 930 sq metre area nearly a decade ago and then selling it, an EOW official said.
The TDR is generated on slum redevelopment projects where an owner or builder redevelops slums free of cost and gets TDR as an incentive under Development Control rules.
Quoting the FIR registered on the basis of a complaint, the Economic Offences Wing of Mumbai said accused Nailesh Mehta of Dev Developers in Andheri pretended himself as the partner of Zoomi Construction Company by preparing fake documents and acquired the latter's rightful TDR from the Slum Rehabilitation Authority.
He then sold the TDR to a third party, thus causing the company an estimated loss of Rs 3.2 crore (Rs 32 million), he said.
The FIR in this regard was registered on October 2 following the cheating charges levelled by Javed Pathan (48), owner of Zoomi Construction Company, against Mehta and others, said the official privy to the probe.
Explaining the sequence of events that led to the crime, an EOW official said Pathan had in 2002 embarked on a project to develop a slum locality in Teli Galli of suburban Andheri under the SRA scheme.
As Pathan was facing financial troubles, Mehta approached him and expressed his willingness to complete the project as a sub-contractor and accordingly both the parties struck a deal, police said.
After completion of the project, Zoomi Construction was entitled to the TDR as per norms of SRA, police said.
"However, soon after completion of the slum project in Andheri, Mehta had allegedly represented self as partner of the Zoomi Company using forged documents and acquired the firm's rightful 930-square-metre of TDR from the SRA and sold it in 2005 to a third party without the knowledge of Pathan.
"The third party which purchased the TDR is also not aware of Mehta's fraudulent practices," the officer said.
Police claimed that Mehta had also forged signature of Pathan on some of the documents in a bid to misguide the SRA and the city's civic body that was involved in the procedure of clearing the TDR rights.
"The victim realised the fraud recently and complained to police.
"A preliminary inquiry was accordingly conducted, then the FIR was registered," said the officer.
"We are now gathering the documents submitted by Mehta at the SRA, the civic body and other government agencies as part of the probe and trying to uncover the fraud," he said.
Mehta and other unnamed accused have been booked under IPC sections 465 (forgery), 467 (forgery of valuable security, will, etc), 468 (forgery for purpose of cheating) 471 (using as genuine a forged document or record), 420 (cheating) and 34 (acts done by several persons in furtherance of common intention), police said.
The image is for representational purpose only