While presenting her 2021-22 Union Budget, Finance Minister Nirmala Sitharaman had set a fiscal deficit target of 6.8 per cent of nominal gross domestic product (GDP) against the 2020-21 Revised Estimate of 9.5 per cent.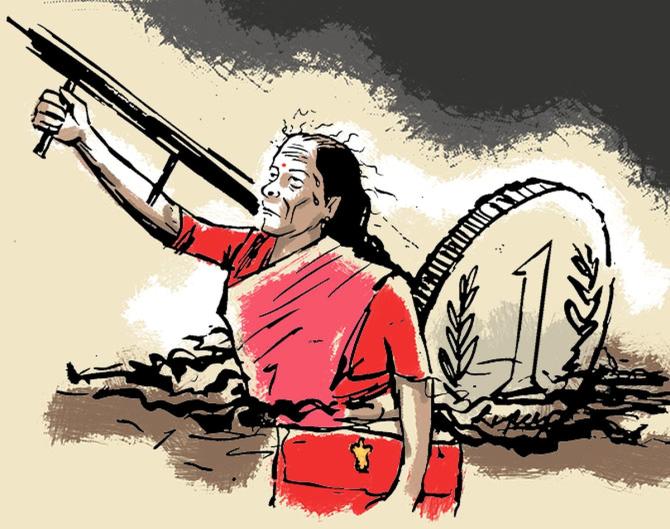 The fiscal correction in the upcoming 2022-23 Union Budget is unlikely to be that steep.
Even as discussions among top Budget-makers are ongoing, the fiscal deficit target for 2022-23 may likely be in the range of 6.5-6.8 per cent.
This draws from two factors.
First, the Centre is unlikely to meet this year's fiscal deficit target due to a higher expenditure burden, and also the divestment target of Rs 1.75 trillion.
Second, the pre-pandemic medium-term fiscal deficit target of 3 per cent of GDP all but seems to be buried, which means the 'glide path' in the coming years is likely to be a gentle slope, instead of a sharp year-on-year decline in targets.
The NITI Aayog is said to have suggested that the finance ministry should not rush to a lower fiscal deficit in the next fiscal year, as stepping up capital expenditure will help economic recovery, create jobs, and boost demand.
"There is still uncertainty around the Omicron variant, and hence around economic recovery.
"Some fiscal breathing space will be required next year as well, as we see spending commitments on welfare schemes, continued thrust on public investment and sector-specific interventions, if required," said a senior government official.
For the current year, the ministry has been rather conservative in its tax revenue targets; hence, collections are poised to be much higher than budgeted as the economy shows a strong recovery.
For next year, the Centre could be conservative with its expenditure targets, i.e. over-provision spending in some areas.
Allocations for booster shots of Covid-19 vaccines, health sector, welfare schemes for the poor, food subsidy, and capital expenditure are going to the focus areas in terms of expenditure for 2022-23, according to officials.
They privately conceded that the fiscal deficit target for 2021-22 was under stress.
On one hand, revenue collections have been rather healthy.
The advance tax mop-up for the October-December quarter almost doubled from the same period last year to Rs 94,107 crore.
Recently, the finance ministry informed Parliament that the Centre's net income tax revenue from April to December 7 stood at Rs 7.39 trillion.
The net income tax collection during the entire lockdown-hit FY21 was Rs 9.45 trillion.
The collection during the pre-pandemic year of FY20 was Rs 10.51 trillion.
Budget-makers are confident that the net tax collection's Budget target (direct plus indirect) of Rs 15.45 trillion will be exceeded.
Gross goods and services tax (gross GST) collection for November had come in at Rs 1.32 trillion -- the second-highest not only this year but also since the introduction of the nationwide tax.
Total gross GST collection for April-November was Rs 7.02 trillion against Rs 8.66 trillion in the entire FY21 and Rs 9.44 trillion in FY20.
Non-tax revenue is also expected to be healthy due to the surplus from the Reserve Bank of India and dividends from state-owned entities.
But all this is offset by a higher expenditure burden because of the free food programme for the poorest, a much higher-than-expected fertiliser subsidy burden, sector-specific measures to help economic recovery, and the Centre taking on the entire burden of vaccination from states.
In the ongoing Winter Session, the government has sought Parliamentary approval for an additional spending burden of Rs 2.99 trillion.
Then there is divestment.
Tuhin Kanta Pandey, secretary, department of investment and public asset management, tweeted on Sunday that Life Insurance Corporation is slated to go for its initial public offering in the January-March quarter.
However, many within the government feel that Bharat Petroleum's privatisation will not be possible this year.
"Just because we managed to sell Air India does not mean that BPCL's sale will suddenly be sped up. Privatisation is a complex process. LIC will be done as the government has had a long experience in IPOs," said a second official.
"The additional tax revenue will make up for any shortfall in divestment.
"But they won't make up for the additional expenditure burden."