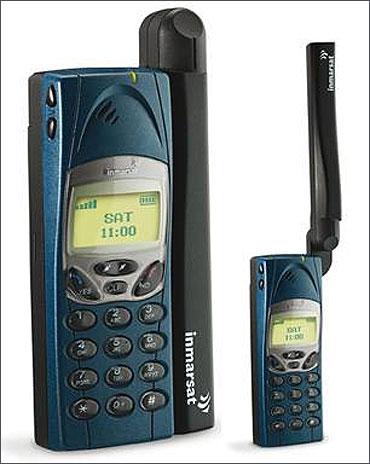 State-owned BSNL on Wednesday started a satellite phone service through INMARSAT, which will be initially offered to government agencies and later opened for other citizens in a phased manner.
The service will cover areas where no network is available and will be provided by INMARSAT, which has 14 satellites.
Agencies handling disasters, state police force, railways, Border Security Force and other government agencies will be given the phones in the first phase, Telecom Minister Manoj Sinha said at the service's launch.
"Later people travelling in flights and on ships will be able to use it," he added.
BSNL Chairman and Managing Director Anupam Shrivastava said: "We are starting a satellite mobile service with voice and SMS."
Satellite phones in India are currently provided by Tata Communications, which inherited the licence from Videsh Sanchar Nigam Limited (VSNL) (now Tata Communications Ltd).
"The services of TCL will be phased out by June 30, 2017," Shrivastava said.
There are 1,532 authorised satellite phone connections that can operate within the country and a majority of them are used by security forces. TCL has also issued 4,143 permits to the maritime community for use of such phones on ships.
"All the connections will be transferred to BSNL. The call rates will be determined by BSNL. It should be in the range of Rs 30-35 per minute," INMARSAT India Managing Director Gautam Sharma said.
The International Mobile Satellite Organization (INMARSAT) was set up under the aegis of the United Nations in 1979, and India was one of its founding members.
India had set up one gateway required for satellite phone service in Pune under VSNL following security concerns over some satellite phones that were supplied by foreign operators.
Defence forces did not opt for satellite phones from foreign operators because of security and espionage concerns. Other security agencies had also been demanding for a long time the establishment of a new gateway in the country which can support new generation handsets for land mobile connections.
Telecom regulator Trai had said there was a possibility of communication through such phones being monitored by foreign agencies if their gateways were located outside India. Also, a foreign operator who has provided these terminals to security agencies did not hold a valid licence in the country.