'India has enough resilience to withstand medium to long term impact'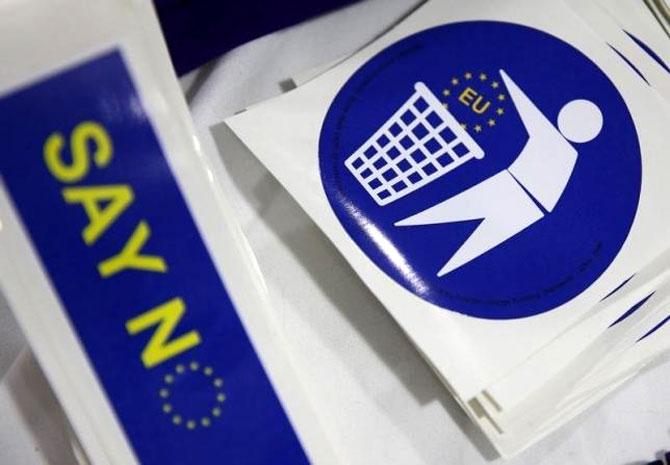 Seeking to calm turbulent markets following Brexit, government and Reserve Bank of India on Friday said India's sound macro economic fundamentals backed by planned structural reforms and firewalls will help it weather any major fallout of UK's leaving the European Union.
Finance Minister Arun Jaitley said impact on financial markets should not last beyond a few days and vowed to steadfastly pursue growth-oriented reforms agenda, including early passage of Goods and Services Tax Bill, while RBI Governor Raghuram Rajan promised to provide liquidity and correct any disorderly market behaviour.
India has enough resilience to withstand medium to long term impact and is well prepared to deal with any volatility, they concurred.
Rajan said investments should return after initial investor worries over Brexit and pledged to inject liquidity in dollars and rupees, as needed.
Economic Affairs Secretary Shaktikanta Das asserted that India has the firepower to withstand impact of Britain's exit from the EU and did not expect foreign trade to suffer.
"Our macro-economic fundamentals are sound with a very comfortable external position, a rock-solid commitment to fiscal discipline, and declining inflation," Jaitley said in a statement.
"We are well prepared to deal with short and medium term consequences of Brexit."
The Indian economy has good fundamentals, low short-term external debt and sizeable foreign reserves, Rajan said, adding that these factors should stand the country in 'good stead in the days to come'.
He saw no major foreign selling as India was better placed than other economies.
In line with global markets following UK's exit from EU, BSE Sensex tanked nearly 1,100 points before regaining some ground -- still closing 605 points down at 26,397.71, while the rupee fell below the Rs 68 mark against the US dollar.
Gold, considered a safe-haven investment, soared however to 26-month high in the bullion market.
Jaitley, who is on a five-day visit to China, said in Beijing that the UK vote will have transient impact on India, not lasting beyond few days.
"It then settles down."
"Now instead of one entity (the combined European Union) we have to deal with two (EU and UK)," he said.
"At the same time, for the medium-term, we will steadfastly pursue our ambitious reform agenda -- including early passage of the goods service tax that will help us realise our medium term growth potential of 8-9 per cent," Jaitley added.
Chief Economic Adviser Arvind Subramanian said he saw 'silver lining' of a decline in oil prices and likelihood of a rate hike delay in the US due to the UK vote.
Following market mayhem, total investor wealth, measured in terms of cumulative market value of all listed stocks, tanked nearly Rs 1.79 lakh crore (Rs 1.79 trillion).
Minister of State for Finance Jayant Sinha said: "We need to brace ourselves for short-term knee-jerk global reactions.
"We continue to emphasise that India is an open market oriented economy. Markets will find their own level. We have to ensure that we allow markets to adjust."
Jaitley said India is well prepared to deal with short and medium term consequences of Britain exiting the European Union and has solid immediate and medium-term firewalls in form of healthy forex reserves.
Stating that the verdict of the referendum will add to the volatility in the global markets, he said all countries around the world will have to brace themselves for a period of possible turbulence while being watchful about, and alert to, its medium term impacts.
India, he said, is strongly committed to macroeconomic framework with its focus on maintaining stability.
"Our macroeconomic fundamentals are sound with a very comfortable external position, a rock-solid commitment to fiscal discipline, and declining inflation," Jaitley said.
"Our immediate and medium-term firewalls are solid too in the form of a healthy reserve position."
He said the government, the Reserve Bank of India as well as other regulators are 'well prepared, and working closely together, to deal with any short term volatility'.
"Our aim will be to smooth this volatility and minimise its impact on the economy in the short term," he said.
"As investors look around the world for safe havens in these turbulent times, India stands out both in terms of stability and growth," he said.
India, he said, is among the fastest growing major economies in the world today.
"Our growth and inflation prospects are further improving in the wake of the good monsoons that are now moving well across India."
Stating that India respects the referendum's verdict, the Minister said: "We are also aware of its significance in the days ahead and also for the medium term.
"As I have often said, in this globalised world volatility and uncertainty are the new norms.
"This verdict will obviously further contribute to such volatility not least because its full implications for the UK, Europe and the rest of the world are still uncertain."
About the surprise result of the referendum Jaitley said: "I hope this is only a temporary phenomenon where popular thinking and governmental thinking are at variance.
"The political system thinks in one direction, this is across party lines, and people think otherwise."
On overall trend following Brexit, he said: "Whether this is a trend against globalisation or it is a result of some transient factors or otherwise, I think it has to be analysed.
"But decisions like this certainly have at-least temporary cascading effect world over, which we have seen since this morning. In structural terms the world will settle down.
"Instead dealing with one entity, in terms of trade we have do deal with two.
Within EU system there will be more impact with issues like security."
Trying to allay concerns over rupee depreciation, Subramanian said India has the ability "to shape how much and where we want to keep the rupee and how stable we want it to be.
"Of course, without totally interfering with market forces or impeding market forces.
"But we have the ability and wherewithal to ensure whatever adjustment takes place is orderly and smooth."
Stating that the government and RBI have been working on possible eventualities over the last several weeks, Economic Affairs Secretary Shaktikanta Das cited India's domestic fundamentals as the reason the country will not suffer from any long-term impact of Brexit.
With comfortable foreign exchange reserves, inflation coming down and structural reforms on path, India will be able to deal with all eventualities, he said.
The government, he said, was "prepared for all eventualities."
"As far the as the stock markets are concerned it is initial spontaneous kind of sudden reaction because something which is happening goes beyond their expectation. This is a instant reaction that they have shown.
This reaction over the next few days I think should stabilise and markets hopefully will improve," he said.
Das, who did not travel to Beijing to overseas reaction to Brexit leading to postponement of India-China financial dialogue to July, said the depreciation of the Indian rupee was in line with other Asian currencies.
"You know the pound sterling have been depreciating so all currencies have been depreciating," he said.
The Finance Ministry and RBI "have been working on this and we have discussed all possible eventualities, outcomes of the Brexit over the last several weeks. We are prepared to deal with the situation that is emerging today," he said.
With $360 billion in foreign exchange reserve with RBI, India's position "is very sound and solid".
"We have enough firepower to deal with the situation. And the fire-power will be used judiciously in a manner that we maintain stability if our economy," he said.
While Finance Secretary Ashok Lavasa said the government and RBI are ready with measures to curb volatility, Banking Secretary Anjuly Duggal stated that Brexit will not impact India in medium or long term.
Photograph: Phil Noble/Reuters