The venue for Saturday's meeting was shifted at the last minute from the headquarters of the India Banks' Association in Cuffe Parade to avoid media glare.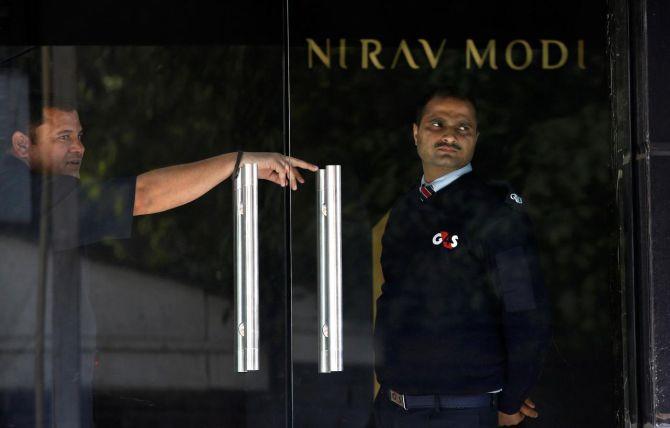 Image: A security guard stands guard inside a Nirav Modi showroom during a raid by Enforcement Directorate. Photograph: Adnan Abidi/Reuters.
Bankers on Saturday went into a huddle to reconcile claims after the Letters of Undertaking (LoUs) scam hit Punjab National Bank (PNB).
PNB has put the value of outstanding claims in the fraud involving billionaire jeweller Nirav Modi at over Rs 110 billion ($1.77 billion).
Bankers declined to speak about either the outcome or their future course of action after a two hour-long meeting held at State Bank of India's head office in Nariman Point, a business district in South Mumbai. Executives of the Delhi-based PNB joined the meeting through video-conferencing.
The venue for the meeting was shifted at the last minute from the headquarters of the India Banks' Association in Cuffe Parade to avoid the media glare.
Those who attended the meeting included Usha Ananthasubramanian, managing director and chief executive of Allahabad Bank and chairman of the IBA,
D Mahapatra, managing director and chief executive of Bank of India, NS Kannan, executive director of ICICI Bank, and B Rajkumar, deputy chief executive of the IBA.
Prior to commencement of the meeting, public sector bank executives had said the aim was to know each bank's position, seek ways to reconcile claims, and find ways to decide on liabilities.
Along with the entities owned by Nirav Modi, banks have also begun to recall loans to the Mehul Choksi-owned Gitanjali Gems and group entities. Choksi has also been named as an accused in the fraud. Besides steps to avoid a hit on their books, banks have begun to review their systems and processes to ensure that potential fraud is identified and corrective action taken.
Abhijit Lele in Mumbai
---
Banks relied on India Ratings' A- outlook to lend to NiMo's Firestar
Fitch-owned India Ratings (Ind-Ra) gave an Ind A- outlook to Nirav Modi's flagship company, Firestar International Private Limited (FIPL), even though the firm was suffering from a high-leverage, off-balance-sheet exposure. Indian banks, including Punjab National Bank (PNB), relied on this rating to lend huge sums to the company.
Ind-Ra's officials said they were in discussions with the company till December 2017, for they needed more information, and placed FIPL and other group companies on rating watch with negative implications on Thursday, a day after PNB informed the stock exchanges about its loss. An Ind-Ra official said, as a policy, the company does not comment on issuer-specific ratings.
In February 2016, CARE Ratings had red-flagged FIPL's deteriorating financial health. CARE then downgraded the company's debt instruments worth Rs 24.6 billion. The rating agency also warned about Firestar Diamonds, a subsidiary of FIPL based in Hong Kong, saying the company may not be able to repay its loans unless its parent company steps in as a guarantor.
But, on June 7, 2016, CARE said it had withdrawn the ratings assigned "with immediate effect" to the bank facilities of FIPL, following the receipt of a "no-objection certificate" from the lenders. This was mainly because FIPL decided to rely on Ind-Ra's better ratings.
While CARE raised the red flag in February 2016, Ind-Ra in March 2017 said it had rated the company's debt instruments at "IND A-" with a stable outlook. This put FIPL's financial performance in line with Ind-Ra's expectation, indicated by a stable consolidated Ebitda (earnings before interest, tax, depreciation, and amortisation) margin of 5.8% in 2015-16 compared to the 5.7% in 2014-15.
Ind-Ra said in the first half of 2016-17, the company reported a consolidated revenue of Rs 68.95 billion and lower profitability margin of 4.4%. Consequently, gross interest coverage was low at 2.8 times.
"Ind-Ra expects the company's consolidated financial profile to remain moderate over FY17-FY18, with fixed charge coverage of around three times," Ind-Ra said in March 2017.
It also said FIPL enjoyed operational synergies between its B2B businesses -- cut and polished diamond trading, jewellery manufacturing, and retail -- which provide ease of sourcing, distribution and economies of scale.
"Moreover, the company's operations are strategically located to facilitate higher profitability in tax-free regions of the UAE, along with low-cost manufacturing in India, access to global participants and consumers in Hong Kong and the UAE markets, and quality diamond procurement from Belgium. A majority of the company's sales and procurements are global. Hence, unhedged receivables comfortably cover its payable position, thus, maintaining a natural hedge on a stand-alone level," it said. This rating was not revised until the scam hit the headlines.
Dev Chatterjee in Mumbai