Auto Expo 2023 may not trigger a fresh rally in automobile stocks, say analysts, as this year's edition lacks participation from major listed players.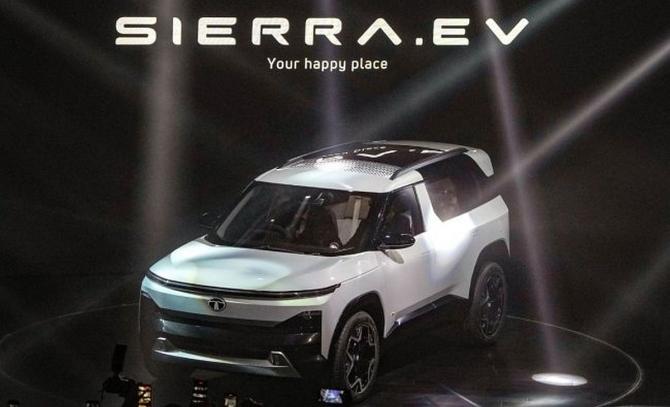 It is also owing to the focus on electric vehicles (EVs), a segment where four-wheelers have minuscule market share.
"In the passenger vehicles (PV) segment, Maruti Suzuki India and Tata Motors are the only listed players.
"Unveiling their new EV models may not support the stocks as PVs command bare minimum market share in the overall EV market," said AK Prabhakar, head of research at IDBI Capital.
Auto Expo 2023 kicked off on Wednesday, January 11, 2023 with Maruti Suzuki India (MSIL), Hyundai Motor India, Kia India, Tata Motors, and MG Motor India being the key exhibitors.
Tork Motors, Okinawa Autotech, Hero Electric, Matter Motorworks, CE Info Systems, Sibros Technologies India, Hop Electric, Devot Motors, MTA E-Mobility, Greaves Cotton, and Omega Seiki Mobility were some major EV makers that also took part in the event.
Among the lot, Maruti Suzuki unveiled the concept electric SUV 'eVX', a mid-sized electric sports utility vehicle (SUV).
It is powered by a 60 kWh battery pack with up to 550 km of driving range. Maruti Suzuki also displayed the WagonR Flex Fuel prototype, Brezza S-CNG, and the Grand Vitara Intelligent Electric Hybrid.
Jasani, head of retail research at HDFC Securities, cautioned investors against correlating new products with sales.
"If a company showcases 10 products, five would possibly get launched in the next few quarters and two or three among them may be successful.
"Hence, the event should not be treated as a trigger to lap up shares," he said.
Analysts said, at best, the complete array of EVs at this year's Auto Expo underscores original equipment manufacturers' (OEMs') realisation that electric mobility is the way forward.
"Mass EV adoption is still some time away in India, and ICE (internal combustion engine) vehicles will continue to see higher demand over the next few years," said Ashwin Patil, senior research analyst tracking the sector at LKP Securities.
According to the Society of Manufacturers of Electric Vehicles (SMEV), 816,050 units of EVs have been sold in India so far in the current financial year.
Of these, 62 per cent (507,113 units) were two-wheelers, and only 3.7 per cent were four-wheelers.
Commercial vehicles, including electric three-wheelers and buses, commanded the rest.
Nonetheless, analysts believe investors may adopt a "buy on dips" strategy for the pack as overall sales growth is expected to remain steady.
"Growth rates, on a yearly basis, across PV and CV segments will slow down in the months ahead due to the high base of the previous year.
"Sales (in absolute terms), however, are projected to hold ground due to easing chip shortage, healthy order book, and new product launches," said Patil.
This, coupled with easing input cost pressures, aid revenue and margin visibility, which will support premium valuations, analysts said.
Most auto stocks outperformed the benchmark Nifty50 and Nifty Auto indices in calendar year 2022 (CY22), with M&M rising 49 per cent, Eicher Motors 24.5 per cent, and Ashok Leyland 17 per cent during the period.
The two indices, meanwhile, grew 4.3 per cent and 15.3 per cent, respectively, ACE Equity data showed.
Patil is bullish on M&M and Ashok Leyland at current levels.
He suggests buying Maruti Suzuki shares on dips.
Jasani, too, expects sales momentum of PVs and CVs to sustain in the quarters ahead.
He advises investors to start picking selectively at lower levels.
Total retail sales in CY22 were up 15 per cent year-on-year (YoY) at 21.12 million units.
This is against 18.32 million units sold in CY21, according to data provided by Federation of Automobile Dealers Associations.
Of this, PV sales were up 16.35 per cent YoY, while CV sales grew 32 per cent.