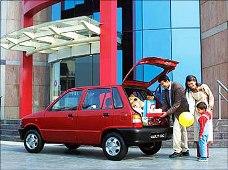 It's not just the falling sales that worry the country's largest car maker.

Now, Maruti Suzuki India Ltd's ambitious Gujarat project has hit a land hurdle.

A 40-acre land parcel has been left out while land was allotted to the company at Hansalpur for setting up a manufacturing facility.

In order to have a contiguous plot, the company will now have to buy this "missed out" land parcel directly from farmers at a fairly high price.

After Maruti parked its project in the area, land prices have spiralled substantially.

Going by current market rates, Maruti might have to shell out in the upwards of Rs 24 crore for this patch of land, which constitutes just around six per cent of the 640 acres allotted to the company by the state government at Hansalpur.

"There is a patch of land left out that we need to acquire for a contiguous plot," said R C Bhargava, chairman, Maruti Suzuki,

According to state government officials, the land was offered to Maruti Suzuki at a rate of Rs 670 per square metre (or Rs 27 lakh per acre).

Therefore, the entire plot at Hansalpur cost the company around Rs 173.5 crore.

The state government had acquired the land from farmers a few years back at throwaway prices of Rs 200,000-500,000 an acre, claimed local residents.

Land prices have since risen manifold to touch Rs 20-25 lakh a bigha in the vicinity now (around Rs 60-70 lakh (Rs 6-7 million) for an acre, claimed Ajmalbhai Thakor, who stays in the adjoining village. He added the 40-acre plot belongs to seven to eight farmers, who now wish to sell the land at current market rates.

Sabuji Jhala, another local resident, said: "When farmers had sold land to the government, nobody had an inkling that it was for such a big project.

"Now, prices have moved up, and many brokers, real estate companies and investors are scouting for land in the area. Farmers will not part with their land without getting a higher price."

This could mean Maruti would need to cough out anything between Rs 24-28 crore (Rs 240-280 million) for buying the plot from farmers directly, which is roughly around 14-16 per cent of the amount they paid for the entire land parcel.

A government official said the company would have to negotiate directly with farmers.

He did not wish to elaborate
on how the plot was missed out during the acquisition and allotment process.
The government had, on its part, made another faux pas during allotment.
It had mistakenly included around 100 acres of pasture land (gauchar) within the plant site.
It was only after villagers took up the issue with the state government that the mistake was realised, and the land was given back to the village.
As Thakor put it: "Villagers are not opposed to the project. We want the plant to come up in the area, it's just that farmers would now want to sell their agriculture land at current market prices, which have increased by five times roughly."
He added the company had started building the boundary wall (a contract awarded to Larsen and Toubro), and had also built some temporary huts for construction workers at the site, and materials had started arriving.
"Maruti would, however, not be able to complete the boundary wall and start work on the plant before this land issue is solved," he said.
Asked if the company was open to buying land from farmers, Bhargava said: "We have already bought land directly from farmers in Gujarat for our second site."
Meanwhile, the car maker is planning to start work on the project soon, in all likelihood during the April-June quarter, but is awaiting a final nod during its board meeting in April.
The plant is expected to go onstream during 2015-16.
Maruti has also taken up a second land parcel near the first site (around 600 acres), for which it was allotted around 70 hectares (around 170 acres) by the state government (at Rs 383 per square metre), and it bought an additional 450-500 acres adjoining the site directly from locals, a government official said.
Maruti is planning to have three assembly lines at the first site, with a combined installed capacity of 750,000 units per annum.
"After we exhaust capacity at the first site, we will move on to the second site, which has been privately acquired by us," Bhargava had earlier told Business Standard.
The overall installed capacity in Gujarat would be around 1.5 million vehicles per annum combining both sites.
Maruti reported a 4.78 per cent fall in its total sales in March at 119,937 units from 125,952 units in the corresponding month last year.
For 2012-13 financial year, the company's total sales rose a marginal 3.33 per cent to 11,71,434 units even as most other car makers saw their sales decline.