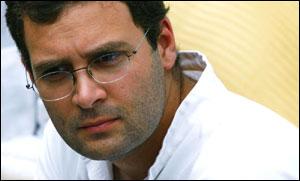 When Adi Godrej went to meet Congress leader Rahul Gandhi about a month ago to sound him out about attending the annual general meeting (AGM) of the Confederation of Indian Industry (CII), the latter "had a lot of questions".
"He wanted to know about our work, who else was going to speak, who was attending…," Godrej, president of CII, told Business Standard.
Gandhi was especially excited when CII requested him to present the Women's Exemplars award to women entrepreneurs. "I do a lot of work with women entrepreneurs and I really think they should be encouraged," Gandhi told the CII team. A team of women who've made it in business the hard way will be given these awards.
CII got a confirmation from Gandhi just four days before the meeting. When word got out that Gandhi might be addressing the AGM, the industry body was inundated with requests for invitation. "We've got an especially enthusiastic response from the diplomatic community," a CII functionary said.
"For one year, I tried to get an appointment with him (Gandhi)," said a former functionary of the Federation of Indian Chambers of Commerce and Industry and a businessman. "I just met with a stone wall."
But now, CII is really pushing its luck. It now wants Gandhi to take a few questions. "Maybe tomorrow, when he's in the Faculty Lounge, we'll ask him if we can open the floor to questions," a CII officebearer said.
Why Gandhi? "We would really like to hear the perspective of the younger generation," said another officebearer. "We really don't know what he thinks".