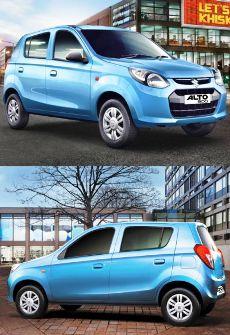 In what is reflective of the growing importance of the Indian subsidiary in the global operations of parent Suzuki Motor Corporation, Maruti Suzuki India Ltd is working at making an operational integrated research & development centre in Rohtak, the test tracks at which would be longer and considerably enhanced in technical capabilities than the ones at the SMC facility in Japan.

Further, in what would be an extension of Maruti Suzuki's role in SMC's global business, once the testing facility and the R&D Centre at Rohtak fully goes on stream over the next two-three years, the Indian company would design, develop and test vehicles for African, West Asian and some South Asian markets for the SMC.

This would be in addition to the responsibility entrusted to Maruti Suzuki to produce and market vehicles in these specified markets.

The testing facility at Rohtak would have more than 30 different tracks covering a length of about 30 km to check the various operational aspects of a vehicle.

The Rohtak test tracks would be the first of its kind for any automobile manufacturer in India.

"The Rohtak R&D test tracks incorporate many improvements over Suzuki Japan tracks, based on global market feedback.

"Most of the testing facilities are being made available for the first time at MSIL.

These are benchmarked globally and also with Suzuki, Japan," said a senior executive at Maruti Suzuki.

Some of the facilities include passive safety lab, performance and endurance chassis dyno and electro-magnetic compatibility.

The centre at Rohtak would enable faster problem identification, analysis and incorporation of suitable countermeasures in products.

Maruti Suzuki would be able to introduce new models of high quality faster into these markets.

The executive added, "Currently, we can make full model changes but we do not have the capability to test vehicles in India.

"This often delays the project as vehicles have to be sent to Japan for testing. Global platform/product development would be done in an integrated manner between India and Japan.

"But once the test facility becomes operational, vehicles for India, Africa, West Asia, some parts of South Asia and if required Europe could be developed and tested in India."
Additionally, once the R&D centre at Rohtak is commissioned, engineers at MSIL would get an opportunity to test and work on various problems in vehicle conceptualisation, design, development and testing and generate knowhow which would increase their capability manifold.

At present, Maruti Suzuki sends batches of engineers for a two-year period to work on model development programmes along with SMC engineers.
But they don't get an opportunity to be part of the product conceptualisation phase.

Senior executives in the company informed the broad perspective of developing a R&D Center is in line with SMC's overall global strategy for a multi-location and unified global R&D team.

The complementary nature of the two facilities would help to enhance the overall R&D set up of SMC, on a global level.

Built at an investment of Rs 1,000 crore, the 600 acre R&D centre at Rohtak would be commissioned in two phases by 2016.

In the first phase, test track and crash test facilities would be operational next year.

The other facilities of the second phase are to be gradually put onstream. As of now, over 1,000 engineers are working in the R&D division of MSIL at Gurgaon.

"With Maruti contributing nearly half of Suzuki's volumes, the Indian subsidiary is assuming a larger role in the parent's global operations.

"Product lifecycles in India are getting shorter, competition from global manufacturers is intensifying and to attain the volumes planned for the next three-four years, Maruti would have to set up local product development and testing facilities to churn out reliable models quickly, both for the domestic and exports markets," said Puneet Gupta, associate director at automobile advisory firm IHS India.

India is the Japanese giant's largest overseas subsidiary with Maruti Suzuki contributing as much as 45 per cent to SMC's sales in vehicle units and 25 per cent to the Japanese giant's sales revenues in 2011-12.

Since 2007-08, Maruti Suzuki's sales in India have been exceeding that of parent SMC's own sales in its home market in Japan.

ON THE RIGHT TRACK
Rohtak R&D is part of Suzuki's strategy to have a multi-location and unified R&D team between India and Japan for enhanced capability
Once the test tracks and the R&D Centre becomes fully operational, Maruti Suzuki can develop and test vehicles for Africa, West Asia, Parts of South Asia for Suzuki to speed-up product launches
Image: Maruti launches top-end Alto 800 variant ' Photograph, courtesy: Maruti Suzuki