Besides electric vehicles, some start-ups present are working in the area of bike customisation, motorsports, auto gaming arena, autonomous vehicle and so on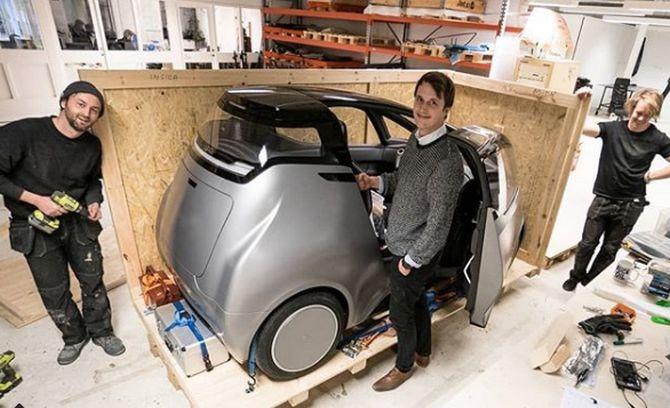 Image: Team Uniti readying the car that is on display at the Auto Expo 2018. Photograph: Uniti via Instagram
Start-ups are using the Auto Expo 2018 as a platform to showcase their product and create a buzz among the public while trying to attract some investments.
About a dozen start-ups are participating in the Expo, with nine of them working in the field of electric mobility.
In the 2016 edition of the expo, only two start-ups had participated.
Even though a number of established automakers are yet to spell out a clear roadmap for electric mobility and their commercial launch, these start-ups are ready with the products and solutions.
However, their struggle is all about managing the cost of the final product and commercialising them.
Besides electric vehicles, some start-ups present are working in the area of bike customisation, motorsports, auto gaming arena, autonomous vehicle and so on. All of them are showcasing their capabilities.
Bangalore-based Emflux Motors, a startup, launched India's first electric superbike, in 600-650cc motorcycle segment.
Swedish start-up Uniti, which has tied up Indian firm Bird Mobility, showcased a two-seater electric vehicle that operates on a joystick.
The company plans to launch five seater car by 2020 and has started taking orders with a booking amount of Rs 1,000.
Albin Wilson, art director and senior representative Uniti said the company is developing a five-seater car that would cost around Rs 714,000 and could run for 200 km on a single charge.
Manesar-based Desmoto Electricals showcased an e-rickshaw (passenger and cargo) and said it is waiting for regulator's nod to launch the product in the market.
He claims that the rickshaw can run for 100 km upon an eight-hour long charge.
Besides the above two, the other start-up participating in Expo include Aftek Motors, Cleveland, DJC, IMN Crafts, Menza Motors, Okinawa Autotech, Goldstone, Pubang Etron Electric Motor and Twenty Two Motors.
Most of these start-ups agree that a government policy can help to make electric vehicle a success in India.
TVS Motor has acquired a 14.8 per cent stake in Bengaluru-based electric two-wheeler and energy infrastructure startup, Ultraviolet.
The start-up designs and develops motorcycle and battery packs.
Hero MotoCorp has invested Rs 2.05 billion in Ather Energy, an electric two-wheeler start-up.
Ratan Tata, the chairman emeritus at Tata Sons has made investments in companies such as Jayem Auto and Ampere Vehicles.