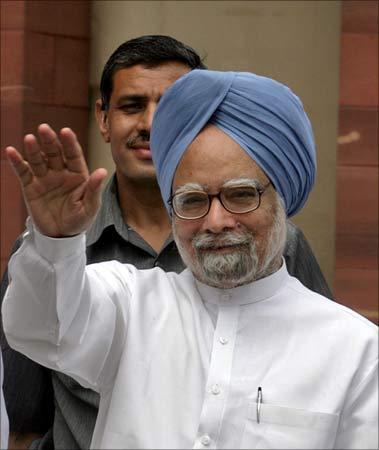 As CAG found Reliance Industries was being favoured in gas exploration deal to the government's detriment, former Prime Minister Manmohan Singh told the then top auditor Vinod Rai that audit should not hurt the private sector and RIL was one of the biggest and most respected.
"Our refrain was that every time matters were settled between the government and the operator (RIL), it was to the government's detriment," Rai has said, while talking about the government-ordered audit by Comptroller and Auditor General (CAG) of KG-basin blocks awarded to an RIL consortium.
Elaborating on the matter, which had snowballed into a major controversy with CAG accusing RIL of not being given access to books of accounts required for this audit, Rai said during one of his meetings Singh "felt that audit should not act as a dampener on the enthusiasm of the private sector to partner with the government".
"The Prime Minister was very emphatic that Reliance was one of our largest, most respected and best-known companies possessing a global reach. Reliance, therefore, had the professional and financial capability to undertake such large projects and compete in global bids," Rai said.
The former CAG, whose comments in his new book about Singh's role during 2G spectrum and coal block allocations have already created a flutter, said that he agreed with the then Prime Minister and told him that that auditor generals in all democracies audit such public-private partnerships and do not comment on any "private party making only normal profits".
"However, it was the government that had taken the step to invite CAG to conduct audit, ostensibly with the objective of assuring the public and the Parliament that its interest were being adequately protected," Rai has written in the book titled 'The Diary of the Nation's Conscience Keeper – Not Just an Accountant'.
Talking further about this particular audit in a chapter titled 'A slippery deal: Gas exploration', Rai said the management committee for these blocks had no voice in the operational control of the exploration and production operations" and therefore the government could not influence capital or any expenditure patterns.
There had been allegations of 'gold-plating' worth billions of dollars by RIL in this project, while it has also been alleged that the contract was biased towards the company.
"Not only was the PSC (Production Sharing Contract) stipulation not well suited to the government interests, but the intensity of over-sighting exercised by the government officials to protect officials to protect government revenue also appeared to be very lax.
"Every time the operator made claims, it was acceded to by the management committee, DGH (Directorate General of Hydrocarbons) or MoPNG (Ministry of Petroleum and Natural Gas). Each time it was acceded to, the action was detrimental to government interest," Rai said.
He also rejected apprehensions that CAG did not have technical knowledge in such technical areas and its auditors had worked in the supreme audit authorities of Oman and its oil exploration agency.
"These auditors were auditing exactly what would be defined as NELP-type models in India. If these auditors could acquire knowledge to audit issues of the International Atomic Energy Agency and highly specialised scientific and defence installations, gas exploration would not be rocket science to them. Indeed, they had already mastered rocket science," he said.