However, once normal air transport resumes and there's abundant belly capacity, the traditional economics of air cargo may not be that lucrative.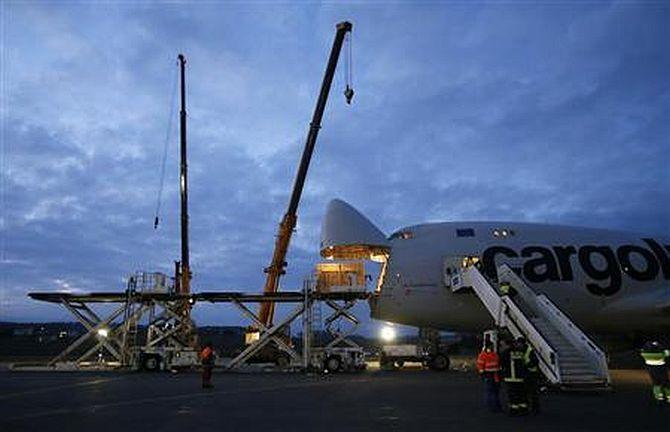 Photograph: Pascal Lauener/Reuters
There's been a change in the SpiceJet pecking order since last year.
Former head of Coca-Cola India Sanjiv Gupta, who leads SpiceJet's logistics business, is now considered a key man by promoter Ajay Singh.
There's reason. SpiceExpress--the logistics arm of the airline--has virtually kept the company afloat during the pandemic as the passenger business suffered record losses.
In May alone, the airline earned Rs 200 crore from cargo operations and has now 5 per cent market share of the outbound cargo from India.
It is the logistics business again through which Ajay Singh is seeking a lifeline.
Last year, the company passed a resolution to hive off the logistics business.
Over the last few months, Singh has met around a dozen private equity investors to sell a minority stake in the logistics business at a steep valuation of $1 billion.
He's also trying to woo Amazon to operate freighter jets on its behalf in one of the e-commerce major's largest markets in return for an equity investment.
SpiceJet refused to comment on the matter.
"They are seeking a premium based on the assumption that if with 5 per cent market share the company can earn Rs 1,000 crore a quarter, they can double it in next one year," said a banker close to the negotiations.
Singh's confidence comes from the $3-billion valuation of logistic start-up Delhivery—a sign of strong investor interest in the future of logistics business.
SpiceJet has frantically built up the freighter business, expanding into last mile door-to-door business, increasing the cargo fleet size from five to 20 including five wide bodies.
With aircraft grounded across the globe due to lack of passengers, SpiceJet has been able to wet lease them on very favourable power by hour lease terms, meaning the airline pays only when the aircraft are used.
The airline has forged tie-ups with warehouses and foreign cargo operators in order to increase the network.
For instance, in February, it inked an agreement with African airline Astral Aviation through which it will get access to send its logistics products to African cities like Johannesburg, Dar Es Salam and Nairobi.
While Singh has the first mover advantage, IndiGo promoter Rahul Bhatia is a late convert.
Although Bhatia was unconvinced about the potential of this business earlier, he's now looking to step up ordering dedicated freight aircraft.
IndiGo has hired former SpiceJet chief financial officer Kiran Koteshwar as an advisor for the cargo project and is now building a team led by chief commercial officer Willy Boulter.
The airline has been poaching executives from major cargo operators like FedEx and Blue Dart too.
"We have a dedicated team under vice-president Vipin Mohla since 2013.
"Kiran has joined as a consultant to help with our freighter project," Boulter confirmed.
While the airline has already ordered four Airbus A321 freighter aircraft, it is now exploring the viability of Airbus' A330 to get into long haul cargo business.
"IndiGo will possibly form an alliance with a global integrator like FedEx or UPS.
"It's only when you carry cargo on long haul routes that you start getting premium yields.
"They will take a measured approach, but when they launch by virtue of their network, they will be a serious player from day one," said a logistics industry executive.
IndiGo's interest to get into long haul freighter business can be linked to a change in rule after hectic lobbying by Singh.
Singh was able to convince the government to change a decade-old rule which gave free access to foreign airlines to carry cargo from India.
In December, the government restricted non-scheduled cargo operations by foreign airlines to six airports- Bengaluru, Chennai, Delhi, Kolkata, Hyderabad and Mumbai.
Civil Aviation minister Hardeep Singh Puri said the change was done to give level-playing field to Indian airlines.
"As Indian airlines never concentrated on cargo, foreign airlines monopolised the Indian market, operating large aircraft like Boeing 777, Airbus A380.
"It's impossible to fill up such large aircraft on a direct route, say from Dubai to Chennai.
"So an airline like Cathay Pacific used to operate a Boeing 747 Hong Kong- Delhi- Bengaluru and then return to Hong Kong.
"It helped to fill such large aircraft. Now such pairing of destinations is not allowed, a move that would benefit Indian airlines," explained an airline executive.
IndiGo CEO Ronojoy Dutta hinted at the airline's plan to take advantage from the absence of foreign airlines.
"A lot of cargo is now being transported through India as there is no direct avenue available.
"A lot of wide bodies have disappeared and I don't think they are coming back anytime soon.
"We are doing a study about the potential of freighter business," Dutta said.
A Spicejet executive argued that for IndiGo to become successful in air cargo, it will have to develop an integrated business, going beyond airport-to-airport to door-step delivery.
"It is only when you have last mile delivery that you can earn a premium over your service and a cost conscious airline IndiGo may not be willing to do that," he said.
Analysts remain sceptical on the profitability from freighter business, saying that once normal air transport resumes and there's abundant belly capacity, the traditional economics of air cargo may not be that lucrative.
"The main reason air cargo yields have jumped is that 30 per cent of the commercial fleet remains grounded, dramatically reducing belly-hold space in passenger jets, which normally carry two-thirds of air cargo.
"This is much more a story about reduced supply than increased demand," said an executive of a freight forwarder company.
Image used for representation purpose only.