'Airlines will need a war chest to deal with post-COVID economics.'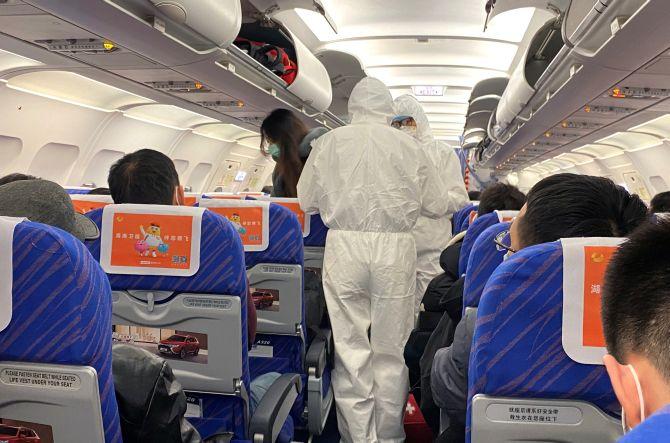 For the airline industry that was already in the doldrums with major players like Jet Airways shutting down and Air India heading to the block, the coronavirus pandemic came as the proverbial last straw.
As flights were grounded for two months, airlines had to cope with mounting challenges -- loss of revenue, airport parking fees, cost of maintenance of the aircraft inventory, personnel costs. Unable to bear the strain on their balance sheet, airlines resorted to salary cuts, laying off employees, etc.
The gradual lifting of the ban on air travel in the last week of May, with numerous health-related guidelines, came as welcome relief, howsoever limited.
On Thursday, July 16, Civil Aviation Minister Hardeep Singh Puri announced that India has established individual bilateral bubbles with France and the US that will allow airlines of each country in the pact to operate international flights.
While it is anybody's guess when the situation will normalise, Kapil Kaul, CEO, South Asia, CAPA-Centre for Aviation, believes the crisis will lead to a consolidation in the aviation industry.
"Airlines with a strong balance sheet or with solid promoter backing will survive," Kaul tells Rediff.com's Prasanna D Zore.
How do you look at the Government of India's price cap on airline tickets?
How will this move impact the operational costs and viability of airline carriers, and will they implement these price caps on passenger fares?
Fare cap introduced by the government is unfortunate and sets a bad precedent. It will hurt both airlines and consumers equally.
Fares have been pushed up at a time when demand is very soft and consumers sensitive to travel.
I see this decision likely to be reversed as demand will get significantly impacted especially as Q2 (July-September) is a weak travel period traditionally.
How bad is the situation for India's airlines operators in the context of the COVID-19 lockdown?
What are the kind of losses these airlines could suffer because of the complete halt of their passenger fleets?
CAPA sees demand -- both domestic and international -- falling by over 50 per cent in FY21 (April 1, 2020 to March 31, 2021).
We will have 200 to 250 aircraft surplus for the next 6 to 12 months.
For Q1FY21 (April-June 2020), CAPA expects airline losses to be in the range of $1.5 billion to $1.75 billion.
COVID-19 will have an extreme impact and will result in serious industry consolidation.
It is inevitable, but one cannot be certain about the structure of the consolidation because airlines struggling now may be able to raise funds from promoters or from external sources.
How different will be air travel post the lifting of lockdown compared to pre-lockdown period?
Post-lockdown, air travel will see a structural shift. Social distancing protocols will impact behaviour till the vaccine is found. Only essential travel will take place and overall experience will be significantly constrained.
What kind of airline companies will survive in India given the severe shocks they have received due to the lockdown?
Or what will airlines companies need to do once the operations normalise in the post-lockdown world?
Airlines with a strong balance sheet or with solid promoter backing will survive.
Airlines will need a war chest to deal with post-COVID economics.
We expect demand to normalise within two years provided we don't have a major supply side correction.
Domestic travel will bounce back first, but international, especially long haul travel, will take a long time to recover.
What will be the revenue losses that Indian airlines operators see in the next three-four quarters?
And how will this impact their hiring plans? Do you foresee a huge retrenchment happening in the airlines industry?
Indian carriers downsizing will have an impact on over 30 per cent jobs. Similarly, in sectors like ground handling, job losses will be over 20,000.