Many argue that the airline could achieve its full potential if Nusli Wadia were to run it the way he does Britannia.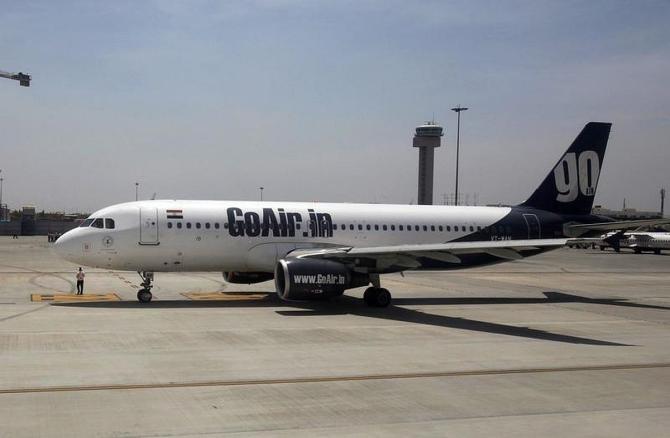 In August 2020, Vinay Dube, former CEO of Jet Airways and a respected aviation professional, resigned from GoAir after just six months in charge.
His timing of joining the company — after Jet's closure — couldn't have been worse.
The pandemic and the lockdown in March led to chaos all around, including for airlines.
After flights resumed in May-end, airlines struggled to fill planes.
In August, GoAir managing director Jeh Wadia found loads far lower than closest rival SpiceJet and hauled up his senior team, leading to Dube's resignation the same evening.
Dube was escorted out of the office by the head of human resources, a tactic used to humiliate senior management and a fairly common practice in the group.
Dube's departure surprised nobody inside or outside the company.
In fact, there's an industry joke about GoAir: That the CEO is always in "departure mode".
The airline's first CEO, Graham Williamson, resigned before the launch in 2005.
He was replaced by Mark Winders — designated executive director for strategic initiatives — who also lasted briefly.
CEOs have included Edgardo Badiali, Kaushik Khona, Giorgio de Roni, Wolfgang Prock-Schauer (WPS), Cor Vrieswijk, Vinay Dube and now, Khona again.
Jyri Strandman also ran the airline for a while, although was not designated CEO.
GoAir's top management is also a revolving door.
For example, Sanjay Gupta, who worked 23 years with Hindustan Lever, lasted eight months as CFO in 2019.
An old Jet hand and its former CFO Sujit Cherian lasted about 18 months.
His successor Joy Basu managed four months.
Anand Sahai, who spent over five years in Pepsi before joining Vodafone from 2007 to 2016 in different roles and is currently CEO of Tata Sky Broadband, lasted six months as the airline's chief commercial officer (CCO) in 2017 — he resigned before his confirmation to avoid serving the notice period — the "longest" stint any CCO managed with the airline before or since.
The airline has seen 12 HRD heads — many say it's the toughest job in the aviation sector in India — since 2005.
GoAir's failure to retain senior management has been ascribed to the classic weakness of Indian promoters.
As a former senior manager put it, "You cannot have three people flying a plane" — a reference to chairman Nusli Wadia, his younger son and managing director Jeh Wadia and the "CEO of the day".
Unlike SpiceJet where the promoter is unambiguously hands-on, the younger Wadia leaves the day-to-day nitty gritty to a CEO, usually a foreign one.
But there's invariably an overlap in the command chain, which leads to an exit of the CEO.
That apart, a "fanatic approval matrix" and "lack of trust" delays decision-making.
Recently, when Jet Airways slots became free, GoAir took so long selecting slots that the best ones were snapped up by SpiceJet and IndiGo.
The toxic culture hardly helps.
Many senior level people have come into the office to find their cabins emptied and belongings stacked outside; sometimes a new occupant is put in place without warning.
Top management has been escorted out of the building by the HR chief without being given a hearing.
WPS, for instance, had expressed the desire to meet the chairman on his last day at the airline.
He was made to wait till late in the evening but was finally denied an audience.
There's always a threat of litigation too.
WPS, for instance, was sued for allegedly "stealing sensitive information" and sharing it with IndiGo, a charge that many find laughable since GoAir is a tiny blip as far as the market leader is concerned.
Then, senior management contracts typically have a high variable component that is based on performance.
"This portion is typically not paid by the company when someone leaves as they are told they have failed to perform or underperformed," said a former HRD head.
In many cases, employees who know the company's proclivity to sue former staffers forgo these dues rather than risk litigation on some pretext or the other.
Much of GoAir's problems stem from the lack of a long-term strategy.
Mostly, "the management is instructed to blindly follow IndiGo's lead and this doesn't work," says a former CEO of the airline.
He says that they start routes to wherever IndiGo is flying but with worse time slots and lower frequencies and then withdraw when the route is not viable.
The overall lack of vision and long-term planning reflects in poor growth rates.
GoAir launched before IndiGo but managed to reach a fleet of only 19 aircraft in its first decade (2005-2015), painfully slow progress by any yardstick.
But even today when compared with SpiceJet — which started in its present avatar in 2005 — the airline has a fleet roughly half its rival.
Pre-pandemic SpiceJet had a fleet of 121, including wet leased aircraft, and GoAir had a fleet of 55.
Post-pandemic, SpiceJet is operating around 300 flights a day with 87 planes, including cargo, whereas GoAir is doing 160-odd with 35-36 planes but with lower loads than SpiceJet.
The airline has been announcing flights through the pandemic, collecting the fares — working capital — and cancelling flights whenever the loads are poor.
Directorate General of Civil Aviation sources say they have been flooded with complaints against some of the airlines but the largest share is GoAir's.
Despite chaos all around, the airline is reportedly looking at an IPO to raise Rs 3,000 crore, according to newspaper reports (after bankers refused a loan for Rs 2,500 crore).
But airline sources say this is the sixth time the airline is toying with listing and the amount since the first proposal in 2011 has remained Rs 3,000 crore.
An email sent to the airline on these and other matters remained unanswered till going to press.
The question that many ask is how group company Britannia, which has been run for many years with Nusli Wadia as chairman, does not suffer from the same afflictions as GoAir.
Indeed, with its relatively low costs and unremarkable service, the airline runs a reasonably profitable ship when times are good.
But many argue that the airline could achieve its full potential if Nusli Wadia were to run it the way he does Britannia with a professional CEO and management, an unusual conundrum to confront.
Photograph: Vivek Prakash/Reuters