Chinese alumina refining and metal smelting technologies have emerged as a match for the best anywhere in the world. In fact, Vedanta and Hindalco have bought technologies from China.
Our aluminium makers will be haunted by twin fears of rising imports and low metal prices squeezing margins over a long time.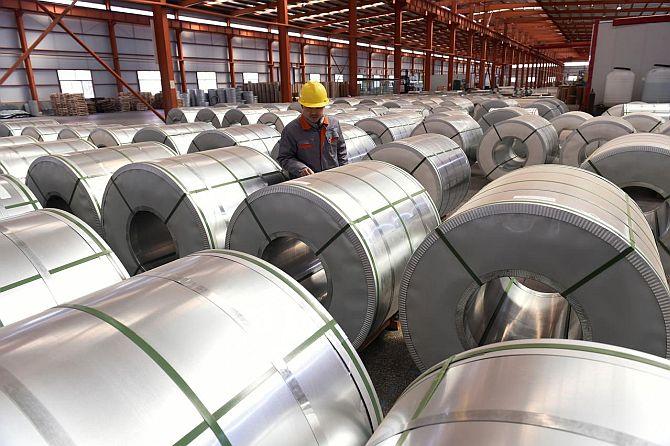 Aluminium is among the few major industries in the country where enough capacity has been created over the years to the point of what Prime Minister Narendra Modi describes as aatmanirbhar (self-reliant).
A smelting capacity of around 4.2 million tonnes (mt) with adequate upstream linkages to refining of intermediate chemical alumina and further upwards to mining of bauxite, of which the country has rich resources, could easily take care of domestic demand in normal circumstances.
But taking ad­vantage of low tariff barriers and also our free trade agreements (FTAs) with Asean countries, imports have usurp­ed a share of 58 per cent of the domestic market.
Even while the three primary producers, namely, Hindalco, Vedanta and Nal­co would prefer to sell their metal in the domestic market for better value realisation they are left with no alternative but to export a major portion of their production.
They are beaten by competition from imports, which have the benefit of comparative low energy cost, particularly when hydel and gas power is employed in smelters, and also of overt and covert subsidies when the metal originates in China.
Niti Aayog says that the Indian aluminium industry will remain under pressure due to surplus global aluminium capacity and the support Chinese producers receive from the government.
China sells 30 times more of the silvery white metal to India than it buys from here creating a big trade deficit on aluminium account for us, says the report.
Already smarting under unres­trained imports, which peaked at 2.318 mt in 2018-19 - the fall in imports to 2.17 mt last financial year was because of demand contraction in major aluminium-user sectors and also the impact of the Covid-19 pandemic in the final month of March - Indian metal makers are worried by an International Alu­minium Institute report that China raised its annualised aluminium production in the first five months of calendar 2020 by 718,000 tonnes.
The rise in Chinese output occurred when the rest of the world, coping with demand-destructive impact of Covid-19, cut annualised production by 612,000 tonnes.
Indian policymakers must not lose sight of the fact that as early as 2006, Beijing recognised aluminium as one of the nine "pillar industries" that with government support would become globally dominant.
Eye-popping growth in capacity of primary metal and in value-additive downstream alloys and flat rolled products was aided by a bevy of benefits, including low-cost finance, electricity at subsidised rates and tax breaks for new facilities and those in western China.
With government support, Chinese aluminium makers defy their growing dependence on foreign-origin bauxite - imports of the mineral in 2019 grew nearly 22 per cent to over 100 mt from 82.57 mt in 2018 - to secure a dominant position in the global industry.
What is more, the Chinese alumina refining and metal smelting technologies have also emerged as a match for the best anywhere in the world.
In fact, Vedanta and Hindalco have bought technologies from China.
The rest of the world, including In­dia, has reasons to sit up when China with a share of 57 per cent of global aluminium output so far this year is accelerating production when the demand for metal is down everywhere.
Acco­rding to Hindalco managing director Satish Pai, "Global aluminium demand in 2020 will see a sharp fall of 8 per cent against the backdrop of Covid-19.
"A ma­jor slowdown in manufacturing, particularly in the automotive industry, will likely lead to a 13 per cent demand shrinkage in the world, excluding China.
"At the same time, the world's largest producer and consumer of the metal will see consumption dwindling by 4 per cent.
"In China, however, some green shoots are noticed, thanks to demand recovery in the auto and construction sectors."
Aluminium is experiencing the crisis that visited it during 2008-09 recession.
As Pai points out, 2019 saw a steep fall of 15 per cent in aluminium price to $1,791 a tonne from $2,100 in the previous year.
To add to the industry's woes, in this year's first quarter, the price fell further to $1,690 a tonne.
At the time of writing this, the three-month price on London Metal Exchange bre­ached $1,600 a tonne.
This is too low a price for smelters, particularly those using coal-fired electricity to stay in the black at the primary metal point.
Incidentally, all aluminium smelting in India uses thermal power.
Energy accounts for around 35 per cent in the industry's cost of production here.
Pai says slowdown in all major aluminium industries from electrical to construction to automobile caused Indian demand to fall 6 per cent to 3.7 mt in 2019-20, after growing impressively at over 9 per cent in the previous two years.
New Delhi's stimulus package of Rs 20 trillion equal to nearly 10 per cent of gross domestic product (GDP) and its accent on infrastructure development and construction hold the promise of demand revival.
But Pai feels that the demand for the metal will remain "subdued in the current financial year."
What will logically follow are attem­pts by Chinese groups to ship out their surplus to the world market to minimise inventory costs.
An emerging prospect, therefore, is the surrender of domestic markets to Chinese imports, either directly or through countries enjoying FTA-linked nil import duty.
If global supply this year exceeds demand, aluminium prices may well take a long time to return to pre-Covid-19 levels.
So our aluminium makers will be haunted by twin fears of rising imports and low metal prices squeezing margins over a long time.
It is high time New Delhi revisits import duties on white metal and scrap.
The industry now wants trade action and no more bluster from New Delhi.
Photograph: Reuters