'Usually, urban wage rates are 50 per cent higher than rural wage rates. But, this could be narrowing very rapidly now,' points out Mahesh Vyas, CEO, Centre for Monitoring Indian Economy.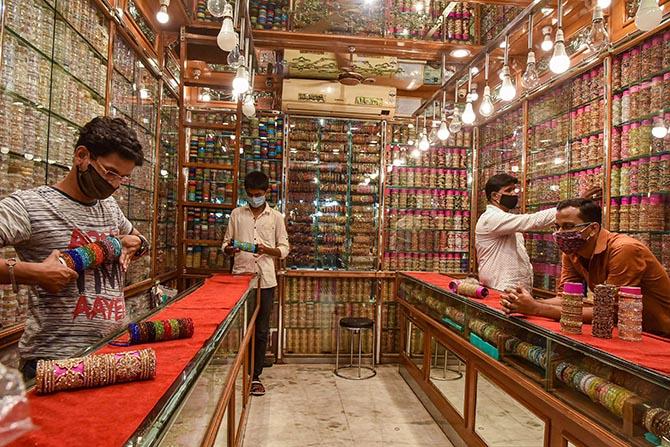 During the week ended June 28, the unemployment rate was 8.6 per cent.
This was just a tad higher than it was in the preceding week when it pencilled 8.5 per cent.
The labour participation rate fell from 42 per cent in the previous week to 41.4 per cent in the latest week and the employment rate also fell from 38.4 per cent to 37.8 per cent.
In spite of this small deterioration of labour conditions in the latest week compared to the preceding week, the data indicate a dramatic improvement over the labour conditions in April and May.
The unemployment rate has declined and simultaneously, the participation rate has recovered to close to pre-lockdown period.
The sudden and sharp increase in the unemployment rate immediately upon the imposition of a lockdown surprised us initially; then the loss of 122 million jobs in April shocked us.
But, after the initial jolt, both could be explained as the direct consequence of a very effective national shutdown to curb the coronavirus.
As the lockdown stretched itself into several weeks and then months, its ensuing misery manifested itself in heartbreaking pictures of helpless migrant workers trudging back home and in a pall of gloom setting in over economic prospects.
According to government estimates, the great migrant exodus was of the order of 100 million.
This is anywhere between 20 and 25 per cent of employment in India.
Real Gross Domestic Product forecasts now average around five per cent shrinkage.
Given this massive shock to the vulnerable and the deep despondency among those who are better endowed, expectations of a return to normalcy anytime soon was not on anyone's mind.
Then, how do we square the streaming data with perceptions of reality?
How do we explain the rapid return to pre-lockdown rates of labour participation, unemployment rate and employment rate?
The improvement in rural India is explained by the rise in Mahatma Gandhi National Rural Employment Guarantee Act (MGNREGA) spending by the government and by the increase in kharif sowing.
Person days of jobs provided under MGNREGA had reached an all-time high of 568 million in May 2020.
This was 54 per cent higher than the level of May 2019.
Data for June 2020 accessed on June 29 from the official site of the scheme at 348 million was 66 per cent higher than it was for the month exactly a week ago.
This either implies a sharp increase during the week or substantial revisions for the month.
Either ways it implies a continued increase in MGNREGA spending into June.
Person days of jobs in June 2020 were already 8.4 per cent higher than they were a year ago.
Kharif sowing till June 26 was more than twice it was a year ago.
There is no overlap between MGNREGA work and sowing work.
The two together therefore have evidently powered the rural employment surge in June.
This could have also absorbed a part of urban labour as well.
The high demand for labour in rural India because of aggressive sowing and the rising wages in rural India are drawing urban labour into rural India.
But, this could have absorbed only a small proportion of the total urban labour.
This absorption of urban labour into rural regions cannot explain the surge in employment in urban India.
What could have led to urban employment rates recovering?
Newspapers provide anecdotal evidence of markets and malls opening up across towns.
Factories are opening up and even some migrant workers have returned.
But public transport is not operating for all practical purposes.
We are not back to normal.
Neither the markets nor the factories are working to pre-lockdown capacity.
Work has begun in urban India, but, differently.
The labour market in India for the most part is like a classical free market.
Demand-supply balances determine wages. In times such as these, when the supply of labour is far in excess of its demand, the only way, in which markets can clear are for wages to drop.
Urban labour has reasons to be desperate for jobs.
It cannot afford to stay unemployed for so long.
Marianne Bertrand, Kaushik Krishnan and Heather Schofield found (external link) that during the second fortnight of April, only 66 per cent of households could survive the lockdown for more than a week without getting into distress.
The cost of living and poverty rates in urban India are higher than in rural India.
This is what drove the migrants out.
This is what compels the rest to drop wages to find odd jobs to survive.
Usually, urban wage rates are 50 per cent higher than rural wage rates. But, this could be narrowing very rapidly now.
The experience of the past three months provides proof that Indians do not protest loss of jobs.
They just drop their rates and continue with their lives.
Lack of protest is no proof of lack of extreme distress.
Data is a better guide. Watch out for data on farm prices falling in October after a bumper crop.
Let's not wait for farmers to burn their crops rather than spend on harvesting then.