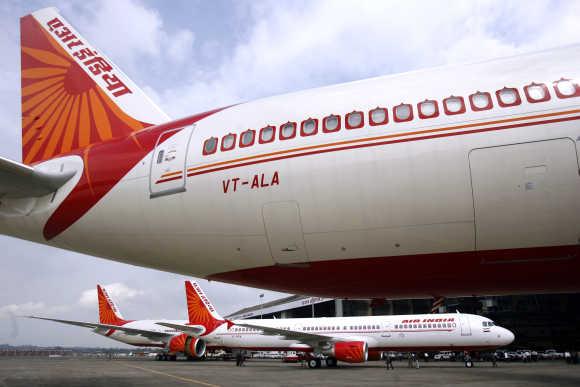 State-run Air India has withdrawn its 10 direct flights to international destinations in the last three years due to poor passenger load.
The airline, which operates flights from 59 domestic destinations, started flights to six new international destinations during the same period, the Lok Sabha was informed on Wednesday.
"AI had withdrawn its services on Mumbai-Nairobi-Mumbai sector, Chennai-Kuala Lumpur-Chennai sector, Calicut-Mumbai-Kuwait sector, Bangalore-Singapore-Bangalore sector, Hyderabad -Sharjah-Hyderabad sectors in 2010," Minister of State in the Ministry of Civil Aviation K C Venugopal told the Lok Sabha.
In 2011, it withdrew services on Chennai-Damman-Chennai sector, while services on Cochin-Kozhikode-Dammam, Trivandrum- Dammam, Mumbai-Dammam, Hyderabad-Dammam and Amritsar-Delhi- Toronto sector were cancelled last year, he said.
Venugopal said Air India has introduced services on Delhi-Chicago and Mumbai-Newark routes in 2010, Chennai-Paris via Delhi in 2011 and Delhi-Bahrain, Delhi-Dhala in 2012 and Kolkata-Dhaka service this year.
Replying to a separate question, the minister said AI's integration into Star Alliance was put on hold on August 1, 2011 even though AI had met all the joining requirements by the stipulated timeline of July 31, 2011.
"Air India has had several meetings with Star Alliance to pursue the matter. However, so far Star has not given any concrete response to Air India in the matter," he said.
Replying to a question on AI financial position, the minister said revised budget estimates of 2012-13 shows that the national carrier had registered a positive EBDITA (earnings before interest, tax, depreciation and amortisation) of Rs 19.45 crore.
He also informed the House that 25 aircraft accidents took place in the last three years.